Medieval moccasins and ghillies for Highlanders, irish goblins and fairies
We´ve all seen drawings in old books of Irish fairy tales with those fancy to dance all night away with goblins and fairies... Ghillies are typical soft leather shoes for irish and scottish dancing in fact and have a lovely ancient traditional historical look For an accurate definition read this wikipedia article about them (yes I know this term is also used for some camouflage material as we´ll cover in the future). Surfing the net I found the perfect site for them...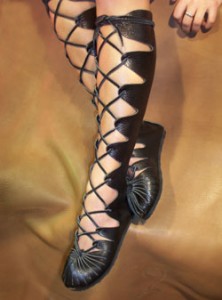 Medieval moccasins shop make them in EVERY color, the color chart is rather complete and include even some shiny metallic finish options. If you don't want your ghillies to be the standard black colour this is definately your shop, and aside from standard ghillies and sandals they also make lovely boots knee-high in ghillie style that are definetely very sexy and fitting for fairy costumes but also for men with their kilt in "Braveheart" of Highlander mood . I wish I could grab a pair in white and black for myself arg and red!! and purple!! (sigh!!). Another thing on my "wish list" of course. They are amazing!
If I were you I'd bookmark this site as a first option because it offers great quality and a wealth of possibilities. If you want a cheaper option you can also find simpler models in other stores like the following:
And of course there are some models in ebay in several shops of dance wear, you can check there clicking the picture below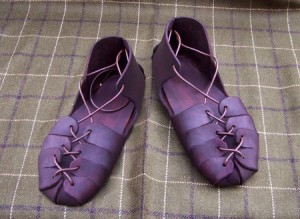 Now Dance... Dance... Dance!!!!
Submitted on 2008/Jun/16