Mermaid stockings with scales... daily wear for mermaids in disguise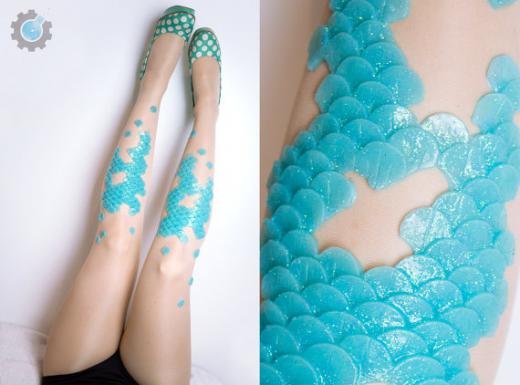 Tinkerkast is a store that offer different kind of wearable handmade props. Based in Germany and run by Daniel Struzyna, the shop offers a collection of horns, neckchains with skull and bones replicas, horns and other fantasy items. I somehow randomly found the store doing a google search on "mermaid" apparel, I am somehow inclined to buy a tail when I can for a music video, so I do the search from time to time. And then I found a picture of mermaid stockings with scattered scales over sheer unnoticeable mesh... it looks really ethereal, and had to search. Though the store have now a scarce number of items listed, I there is a button for "CUSTOM ORDER" and mermaid stockings are still in the description of items offered. But if you check the store network (facebook and instagram) you will find also scaly cuffs.
I really think they are super clever and fancy, with beautifully made realistic silicone scales. It will look as if you are growing scales, or concealing magically a mermaid tail. I think it´s a cute a clever idea for mermaid-lovers, when they need two practical legs to walk around ;-)
My favourite items maybe are the amazing dragon horns, :) Though I found them on a "mermaid" search, I was really impressed by them, bookmarked! Here a snippet of some of the items you can comission to the store.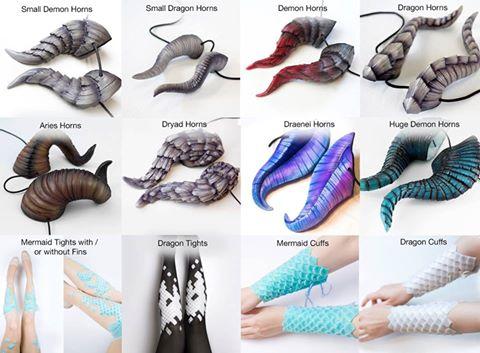 But if you are into more "strega" wicca fashion, you will find also some treasures at the store.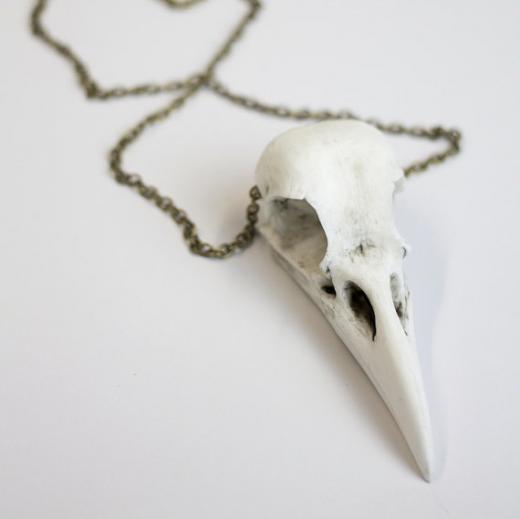 Network
TINKERCAST at instagram
https://www.instagram.com/tinkercast.official/
TINKERCAST facebook
TINKERCAST ETSY STORE
https://www.etsy.com/shop/tinkercast
Submitted on 2017/May/11