Feather eyelashes: Fantasy in your eyes!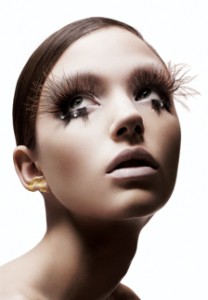 We previously covered in this blog an article about "fantasy contact lenses", if you add now some fantasy false eyelashes, there you got it.... You're not from this world for sure!!! Among the most striking ones that i've found and in a better quality range you can purchase Shu Uemura's false eyelashes, where I hightlight particularly this gorgeous model (about $50 though) handcrafted in light brown and black that you can see on the picture below (Premium velvet in light brown and black). This particular model has been sold several times on ebay too cheaper just looking for "feather eyelashes", but if you're not lucky and have the money to spare, they look amazing and you can always visit official Shu Uemura website.
I wonder how they stay in shape if you sweat on the stage of if you're caught in the rain... and most importantly if the bigger models are comfortable, but if you're looking for "fine quality" I think this one is of the best options and have different models in different price ranges that you can choose from. But If you are looking for an alien, dryad or fairy look the Premium models of Shue Uemura's are big enough to make you look even weird (in a fantasy way!)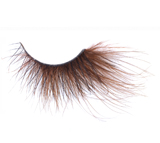 In etsy you can see some custom-made amazing feather eyelashes. I highlight the ones made by Moonshine Baby Creations. They are so sexy and tribal.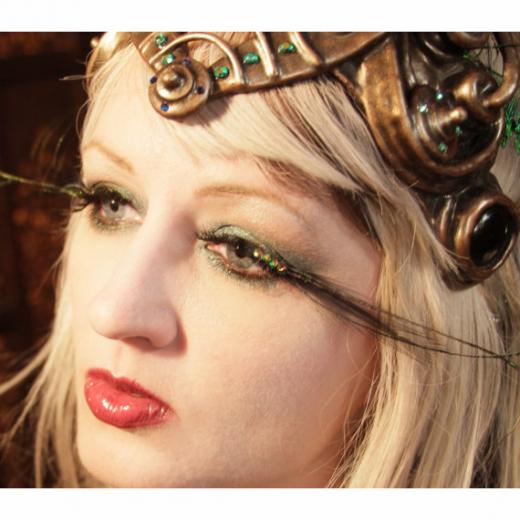 In etsy there are plenty of stores that offer feather eyelashes, just make a search there and you´ll find lots of beauties ready to ship. Some stores that specializes in feather eyelashes are Cat´s Meow, Moonshine Baby, and Eyelash jewelry among others
You can buy some fantasy eyelashes in the website you know it (that also sells fx contact lenses to go alone)

In Etsy you can look for "feather eyelashes" and it will render to a wealth of hand crafted results. I will highlight a few like this "green goddess" made by Scarlet Huntress Store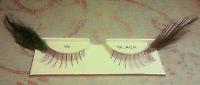 Above: Green goddess by Scarlet Huntress
Another store in etsy that sells feather eyelahes is "Intrinsic Imagination"
example: the "funky peacock" (below)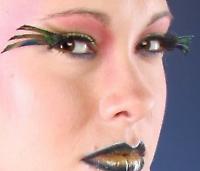 Keeping on looking and surfing....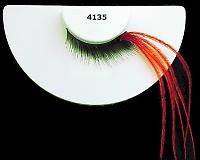 Above: example from madamemadeline.com
This and other fake fantasy eyelashes can be found and Madame Madeline website
Of course you can find some "chinese" cheap feather eyelashes in Holy ebay!! like KK-HC center (ebay store) I really doubt of the quality of these, though i'm about to order some to give a try, some are nice looking and actually considering false eyelashes are somehow a deleterous item, these offers rather cheap prices (even including the often abusive shipping costs from chinese product sellers). Below I post some that I find interesting.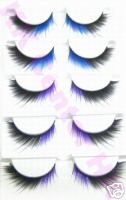 I've also put an eye on this lovely model made by Stargazer looks really lovely for gothic and burlesque, I think I might give a try to this model that is one of my favorites among this trademark. They make it in purple too and other colours.


For stargazer fantasy eyelashes you can visit directly their official site here Stargazer
Want to increase even more your dramatic look.. you can add some custom made jewelry for example gluing beads.

Here are some other shops where you can find false and feather eyelashes like classylashes (UK based), devious wigs (USA based) where you can find some tipped models. Probably I will re-catch this article after a little experience with then ;-).
Want to try yourself... there are some handy tutorials in youtube about how to make it quite easy. I recommend to look for coque feathers with tips :) Anyway always consider to make them matching with your fantasy garment, of course black feather eyelashes are very popular in gothic fashion but if you risk for a more vivid thing, make it match!) And remember that you can go from a very extreme full eyelash or just use feathers at the edge and make it more subtle and elegant... it's up to you and your imagination.
-How to make feather eyelashes (video) (simple approachment)
-How to make feather eyelashes without fake eyelashes (only with the feathers) (bit more detailed step by step)
Submitted on 2008/Jun/14