Sclera lenses... an otherwordly sight!
Yes, they are creepy....


(def) is a large lens that rests on the sclera and creates a tear-filled vault over the cornea
Sclera lenses are fx contact lenses that cover most of the eye surface. Yes, you've seen them many times in movies!!! From the full blackout (that will make you look as a feeric creature or alien) to the complete white that will make you look blind (and in this particular case, you cannot see through them either), but even if some can limit your sight, you'll see perfectly through most of the models.
And yes, they´re creepy and unleashing your imagination can turn even more and more...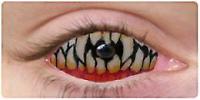 Disclaimer: In USA you'll need a prescription to purch
ase them if you don't have sight problems... I'm spanish and here you can buy them freely but unfortunately the models around here are much more restricted in number and variation. In any case you have to be aware that you DO HAVE to take care of your eyes purchasing a high quality lense, made of a material highly oxygen permeable. This is very important because your eye needs to breath in order not to cause an irreversible injury. You are supposed NOT TO wear them over your own contact lenses (piggybacking) so if you need them powered the handicap is that they're only made up to some gradation. If for that reason and at your own risk you decide to wear it over your own contact lenses, please DO NOT DO it for long. I've been told that they're difficult to insert so prepare yourself for some practise...but isn't it worth the effort? On the other hands quite expensive (sighs!) and will cost you around 280-300$ and up. Take into account that they're not meant to be used for long periods. We all know the less expensive fx lenses but they also lasts much less. If you take proper care of your sclera lenses they can last up to one year. Sigh .... In my wish list I'd love to grave a model of the "whiteout sclera" (some of my "raven children" designs in my drawings have precisely this kind of pattern)
For european dwellers you can visit for example fashion Contact lenses (based in UK) and this other one based in Netherlands which have one of the largest catalog I have found: Fantasy city. They also have some fx make up too.

For an IMPRESSIVE COLLECTION OF MODELS (not only of scleral lenses but also of all kinds of fancy and fx lenses) don't miss this other page (US based) called COSPLAY LAB though you will need prescription for these. Simply amazing! My favourites are the "whiteout sclera", the "corvinus", "lucian" sclera and from the non sclera models"zombified", "lilith" and "succubus" hmm, no I wouldn't mind to grab (or gifted) any of those...! "Inmortal eyes" collection Fx lenses at COSPLAY LAB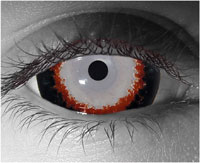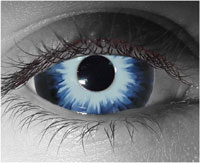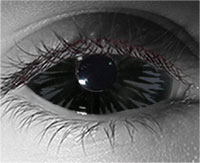 One of the most searched models todays are those inspired in the sci-fi movie Avatar... so here you have an example of a high quality one at 9mmsfx. This store has a lovely collection of scleral lenses, from Aliens to Zombies... aside of the of course very popular Avatar.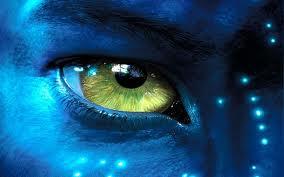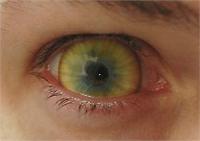 Above: Avatar Contact lenses fx
Below: Dead eye Scleral lenses (ideal for zombies, blind people and even ghosts!!)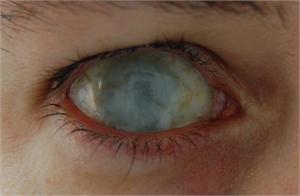 More links where you can look for sclera lenses
Submitted on 2008/May/28