The most bright and vivid Halloween costume...! It's a DOUBLE RAINBOW all the way!
Probably most of your friends won't even get it... then someone randomly will point at you and will exclaim!
WHAT DOES IT MEAN...? And you'll know he's infected too... It's scary... it's like a virus... half of my friends are infected and obsessed about double rainbow things... and I've seen quotes from it even in serious videos and programs... It's the double rainbow... all the way... and everywhere. It' all started with this video in youtube that suddenly peaked with millions of hIts... and millions of people looking for a more "intense" way of watching things :). Jokes apart... it's quite touching... beware it's really viral... There´s an official site of the guy that recorded the video... Yosemite Bear a blog with her thoughts where you can also get t-shirts and all...
I honestly thing that the whole thing is rather moving! :)

But now we face.. HOW TO DRESS LIKE A DOUBLE, TRIPLE, MULTIPLE rainbow...?
Inspiring color is an etsty store with some rainbow dresses and sarongs, t shirts and tops... all SO BRIGHT AND VIVID.
And no, it's nothing about to be gay... but I know many BOYS won't dare to wear a DOUBLE RAINBOW halloween costume.... or... would you dare? I'll list items for both genders :) and some unisex... then pick and combine it the way to make it mo
If you know how to knite you could make some rainbow scarfs, shawls, mittens and socks... There are lot of stores that will sell you rainbow colored wool. I like this one from Wild Hare Fiber studio. But I'm sure you'll find in your local crafts store.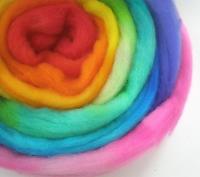 Above: Rainbow roving wool... you ca n make also hair dreadlock falls with this. Need a tutorial about how to make your own custom rainbow dreadlock falls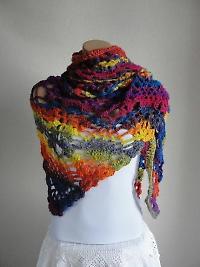 Above: Rainbow Shawl by Mucar
or you can look for them, I like for example these fingerless ones made by Leaf Lee and Katwise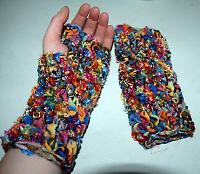 Above: mittens by Leaf Lee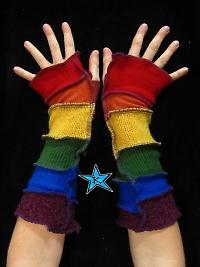 And these from Katwise and look... two hands... they are two... DOUBLE RAINBOW!!
and Woah! Oh my god!! Katwise has also some sweater and coats in "pixie" mood made of recycled materials as colorful as these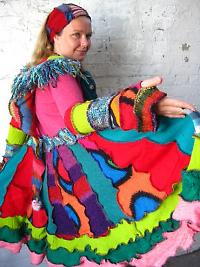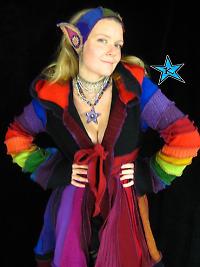 Above: Coat and sweater by Katwise
And here you can see some rainbow items made but Intergalactic Apparel that we also previous covered in detail in their own article (They really do make some gorgeous and original stuff... and among my top favorites ragged pixie coats and skirts too!)
In ebay you can find a wealth of rainbow socks and toe socks (toe socks are even cuter)... by the way I love striped socks... but this... THIS IS TOO MUCH!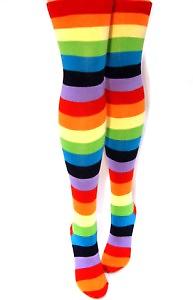 Afraid of using the wrong shoes? No... you can use this furry boot covers by Gobbolino (that we previously featured in yfc)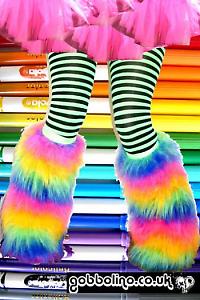 You can add a tutu maybe?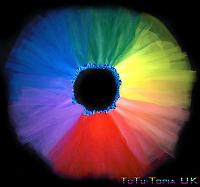 I'll highlight a few examples. First is from a previous featured store called Tututopia (that can make any custom tutu to you) and already list some rainbow pattern ones like this one

of you can even go more club wear into neon colors like this one from "keep it real club wear"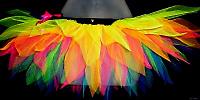 You can also turn it to be just a simply gorgeous rainbow fairy :) Have a look to this wonderful costume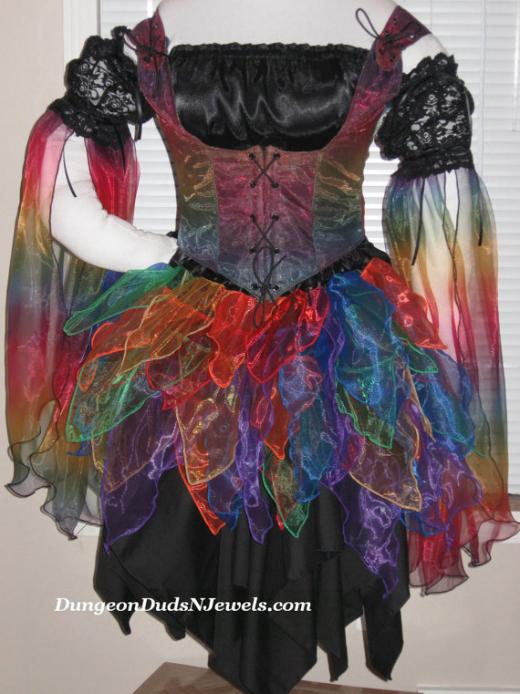 example made by DDNJ Dungeon Dudsn n Jewels
Adding rainbow makeup and nails will also enhance the final effect. Here a few examples of nail art and makeup .)
Burst of colour needed in your face too? Remember sparkles always help
Adding a double rainbow belt? This one is from Bare Tree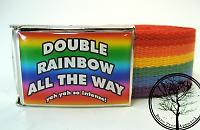 Do not forget to add some pins here and there... they´ll make you look informal and will give clues to the ones not knowing what you are wearing...!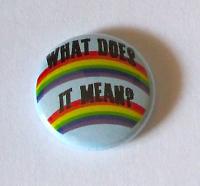 Above: double rainbow pins... you can find them all over the web
There are a lot of resources too fo for double rainbow t-shirts
In need of FAIRY wings to fly OVER THE RAINBOW? (Beware, no fairy related things for guys unless you´re gay.. warned!! and if you are, enjoy it... you can be the most sparkling double rainbow ever...) It has even some Oz quality into it...
This pair of wings are made of Art of Wings previous featured in Your fantasy costume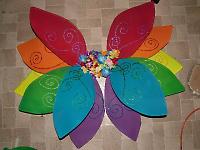 Need something to carry your things? You could consider to get one of this bags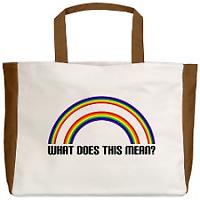 In Cafepress you can find all kind of gifts, t-shirts... even UNDERWEAR!! OMG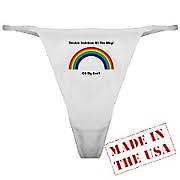 And then you need to learn the SOOOOOOONG.... Better if you can carry an ipod with a minispeaker with you to make an spontaneous mini-karaoke... It's quite contagious and you could create a rather strange jam! I've seen it happening and even people who never sung (or are not meant to sing at least.... dared to do it!)
Double rainbow all the way across the sky... yeeeeeahhh It´s so intense


Above: Original video and song with autotune (that you'll have to learn to sing to make your costume more complete!! and obvious!)
Really need the clueless people to understand... be a bit crafty... pick some pens and make a big BANNER! and type any of the most popular sentences... Infected people will get it with a single "OMG" in colorful rainbow hues. But if you want to be really clear you can write "OH MY GOD, it's a double rainbow all the way", try to be original or get inspiration from already existing logos and banners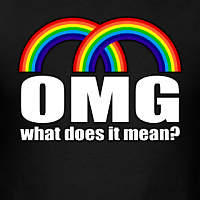 And sure you start to look like a triple... no... even MORE... like a multiple rainbow...
quite blinding maybe... but I can tell very eye catchy and difficult to miss!
Add some lights and funky stuff and above it all HAVE FUN! and like in the Monty Python´s song... Always look on the brighter side of life!
And I hope this added a note of color to your day!
Because some day you'll find it
the rainbow connection
for lovers, and dreamers and me...
I leave you with one of my favourite songs from the Muppets... (we miss you Jim Henson!)

This entry is NOT a joke and is dedicated to all those ones that need at least one day... to become a DOUBLE RAINBOW... dare to break with the monotony of your dull grey life next Halloween, that day you have an excuse huh?... and beware... you might like it! hahaha! You'll be probably soon looking and seeing double rainbows.. everywhere! even in other´s people halloween costumes hahaha... sure a few of you will gather!
WHOA THAT WAS SO... SO INTENSE
Submitted on 2010/Oct/06