Doll Flesh and Louise Black corsets... weird and unique cameo halloween steampunk corsets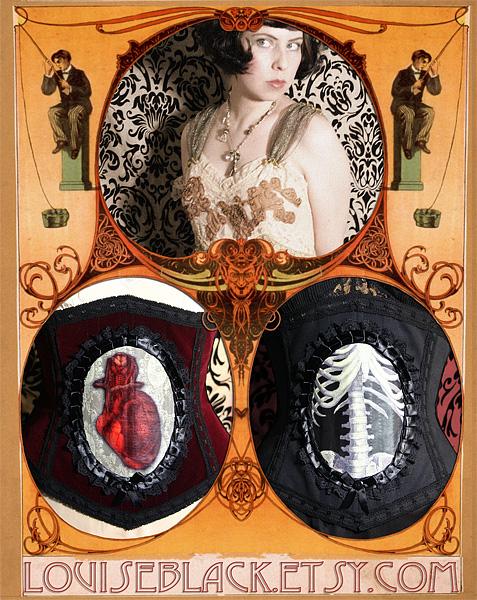 Dollflesh.etsy.com is where you'll find most of Louise Black corsets and also many accessories and jewelry items. They also keep the LouiseBlack etsy store as partner site.
The corsets are almost one of a kind, with a very limited production, elegant yet somehow decadent. One of the of the signatures of her corsets is the lace trimmed cameo featuring images, and the chose can´t´be more decadent eerie and disturbing, being the highlight the "skeleton" ones :) that create this curious optical effect (LADIES Halloween is almost there, and this one is a success-guarantee!!)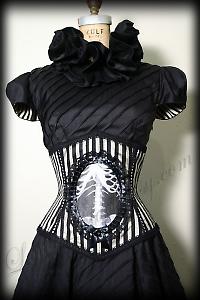 Above: one of the most popular designs: silk Victorian Steampunk anatomical skeleton cameo corset
There are similar versions with Edgar Allan Poe portrait or a disturbing red heart (for a TellTale Heart Tribute), with Marie Antoinette motif and many others... all equally eerie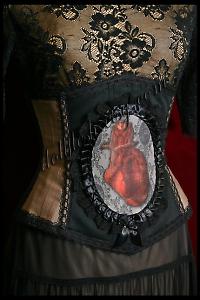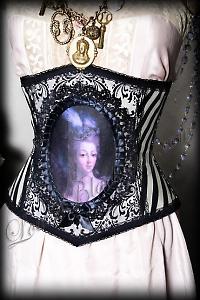 Above: Telltale Heart corset and Marie Antoinette corset.
By the way regarding Marie Antoinette you can find other ideas and complements to go with this item in our article about Marie Antoinette.
You can also get one custom sewn, I particularly would highlight the "Steampunk" one. But you´ll find them all vintage and strange... or even moody and romantic.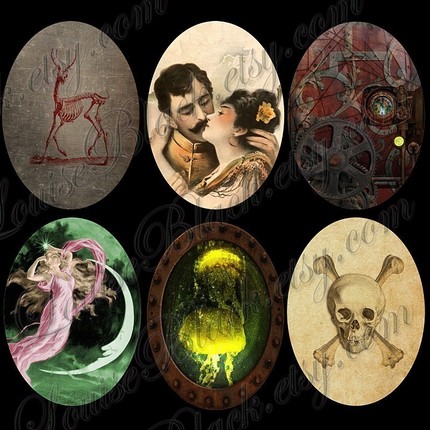 The corsets will pull in your waist a couple inches and give your mid-section a waspy, hour glass appearance. They are custom made to your measurements so it can take up to 10 weeks to be done.
It lists also some chokers and jewelry items in the same "mood" and vibe of her costumes like this lovely choker in a romantic rococo style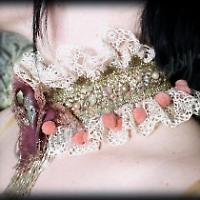 You can network with the designer at her twitter or facebook accounts.
They are building an official site (while they are still operating in etsy) that seems it will be located at dollflesh.com


Submitted on 2010/Sep/28