Queenli Roses: Pretty gowns for the princess of the Ball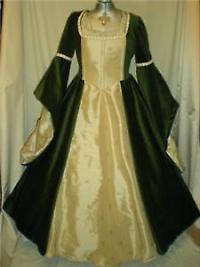 Queelin Roses is an ebay store that has a selection of garments in different styles from Elizabethan, Boleyn and Tudor style to Southern Belle and Civil War ball gowns. All items are made in USA by the designer slef in a smoke/pet free environment and with a selection of fine fabrics. They always keep a modest number of listing ready to ship, though if you want an specific model made up to your measure you can contact the seller.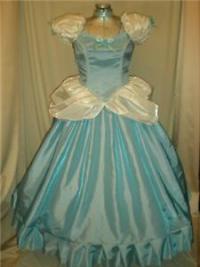 Above: Southern Civil War dress reminiscent of Disney Classic Cinderella and is made of Light blue and white taffeta. It has short puffy sleeves with elastic at the shoulders and arms, which can be worn on or off the shoulders. There is light blue flat lace sewn on the bodice with a blue bow and flower sewn in the center as well as blue bows sewn on each sleeve. The bodice and sleeves are fully lined, and the dress laces down the back with grommets and has a modesty panel. Sometimes they list a model very similar to Belle yellow dress from The Beauty and the Beast.
This Midnight Blue Southern Belle model reminds me to the one shown in Stardust movie They make really prom gowns by themselves too. Or maybe it's me that I love the vintage times!
.

Submitted on 2011/Jan/03