Gobbolino: For the emo, punk and urban cyber fairy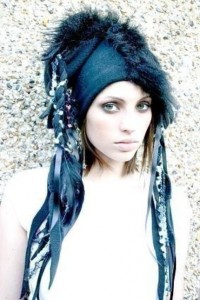 Above: Jack sparrow inspired pirate hat
Gobbolino is a store that specializes urban faerywear . I first discovered this store because it was featured in the same issue of the british magazine FAE MAGAZINE which I was the girl cover. That number of the magazine had also a collection of beautiful pictures and then took note of it.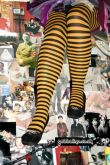 striped socks (bee model) don't we all love striped socks?... I do
From big furry boot covers for animal-like costumes, beautiful hand custom fairy wings, skirts and head garlands. The store has also a weird and unusual collection and ever growing catalogue of legwarmers, cute animal ear hats and sexy lolita lace mini skirts . The store first appeared in the famous Camden Town, London and quickly became available to buy in individual clubwear and alternative shops around the UK and abroad. Heavily influenced by the street wear of the Haruko girls of Japan with their original and inspiring handmade garments. Mixing alternative sterotypes without prejudice the store cannot be easily placed in one single style but a wealth of them from Gothic, Emo, Punk, Indie, Decora, jrock, Scene kids, Nu rave, Gothic Lolita's to cosplay Cyber Kittens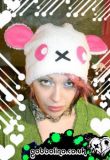 Gobbolino sales a really WEIRD and awesome collection of items, from bunny and bear hats to pouches and bags as unusual as cool. I felt in love with this one... isn't it just cute? This is a goblin bag... so clever! Awww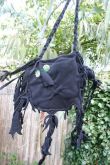 Above: goblin bag (CUTE!==)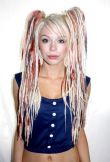 Above: brown blonde wool with blonde dreads
Long hair falls are joined to elastic hair bands for easy attachment to your own hair. The easiest way to transform yourself from your daily style into something more cyber/goth/urban faery like. A touch of tribal too i'd dare to say. These were my favourites, wouldn't mind to wear them one day for fun!
Submitted on 2010/Jul/25