Goblin Road: Leather dryad corsets for forest dwellers!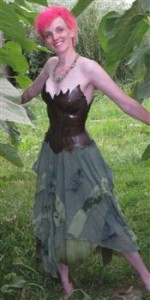 Isn't it an amazing corset? for fairies or dryads? Goblin Road make wearable and made to measure leather corsets to guarantee a perfect fit and they're the "must-have" for a forest nymph garment. The model shown above is called "wood elemental" and also air and fire elemental models are available on the site. I feel tempted to order thos model precisely as I love the cut and that "made of plants" look. The back of the corset is grommetted and cinches with a leather cord.
You can also ask for some runes and ornaments to be engraved, and have it with or without the "leaves" edges though I think that's precisely the trademark of Goblin Road tops. They'll have soon a new collection called "Mythagos" with dragon designs and designs of angel and celestial creatures. I cannot wait to see them! and we'll update this article with them. In the following weeks they'll increase their catallogue with wings, masks, skirts and all sorts of things... so don't forget to bookmark this site to check it all over again soon. Aside they'll list other stuff like skirts, coats and masks.
Submitted on 2008/Sep/05