Steampunk couture: Handcrafted neo-victorian, sci-fi and Shabby Chic Fashion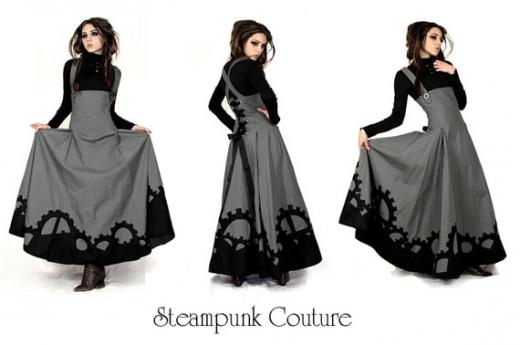 Steampunk has become one of the sexiest options in fantasy conventions... a mix of retro, fantasy, adventure and romanticism with sci-fi. In recent years it's become a solid branch of cosplaying in its own kind. Today we highlight a store with superb items going beyond the classic brown related to Steampunk clothing, and offering also lighter garments for spring and summer (yes you don't have to sweat within leather by all necessity!) But above all Steampunk couture store is a must stop for lucious, delightful
Steampunk Couture creates hand-crafted clothing focusing on Neo-Victorian, Sci-Fi and Shabby Chic fashion. Founded in 2005 by Kato, designer from Wales now located in USA, as a private couture business producing custom-fit clothing and accessories and focusing on high quality with a personal touch, this independent label now maintains a very small team of fabricators and assistants who strive to make each collection exciting and unique.
I recommend you to go and surf the gallery but I'll leave you now with a few glimpses to fall in love.
Also check their etsy store for some "ready to go" listings
Below you can see a set of harness and trousers.... so sexy
And an ethereal set of white skirt and underbust... I WANT THAT ONE, including white hair, snif!
You can also order through the website or custom order via contact@steampunkcouture.com
They also have some accessories and props like vintage looking bottles... perfect for photo shootings :)
Here you an see the "aether dress" in luscious silk green velvet with ruched boost and stone brooch pin... flowing, mysterious, great for Absinthe Green Fairies.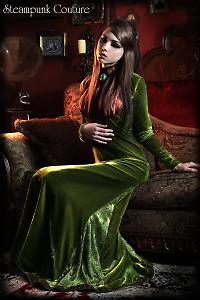 Here you can watch one of the collections in a videoreel
Submitted on 2011/Sep/29