Timjam Design: Beautiful fairy dryad and tribal goddess garments

Timjam Design is a store that compile the designing works of Emelie Stina Viola Ekenberg. She was raised int he dark and magic and deep forests of Sweden making little dresses for her dolls, but it was when she moved to the cosmopolitan Amsterdam when she started to mingle genres, and try with her own patterns and clothes. She moved back to the forests to render garments inspired in faery tales folklore and Mother Nature. And in respect to it, as every "faery" clothing should beThere's a formal intention to make the items ecological, using eco fabrics, al the cotton, hemp and linen is dyed with vegetable dye, and she also recycles material. Now she's opened a workshop in Goa, India. As Emelie herself says she creates "Unique aware creations for unique aware people"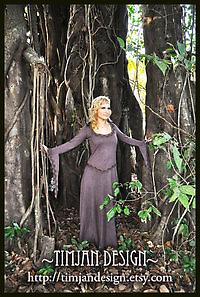 Above: lovely dress... sigh!


To make sure that all my creations are made in Fair Trade with the countries Im in, I make sure to buy materials only from trusted sources and if I hire people I make sure they work under fair conditions. There's a magic and trust for the divine beauty of women that exudes from all her creations. Indeed they come from a joyful and happy heart and there's some of that warm quality that utters to spread along with her clothes. Most of her creations are one of a kind and certainly unique. Somehow tribal and sometimes furry or ragged, mixing different fabrics and patterns, the result is a "Tribal Dryad looking" style that is both suitable for forest dweller and daily informal wear.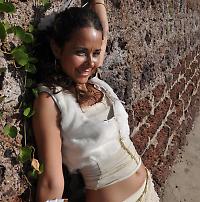 Above: Faux fur vest with cotton lining. Cute! I love this white for winter fairies, it's also available in Brown for autumn ones.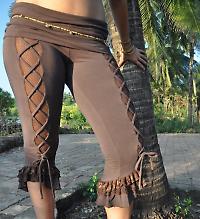 Brown organic bloomers... idea for daily wear. Love them in brown, and white... and black!! aww!
These brown pants are a perfect combination for this lovely Onyx lace dress (very sexy!)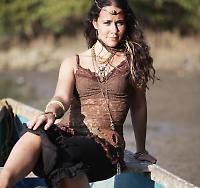 And talking about sexy, to add to the pants (or wihout them if you're daring) they have some lovely miniskirts... I particularly like this black one . Also cute for bellydancers by the way.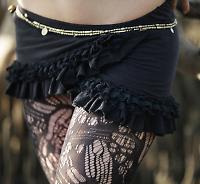 You can also find some "on sale" articles in this other store of hers "Wild Wisdom" which is an outlet section of Timjam Design.
You can aslo network with Timjam Designs in Facebook
Submitted on 2011/Feb/13