Uptight clothing: fantasy wedding gowns
Uptight Clothing is a small independent business based in UK specializing in couture corseted wedding/bridal gowns, underwear corsets and fantasy jewellery. All the gowns are inspired by period, theatrical and fantasy elements. In vibrant colours and with exquisite embroidery all elements are one of a kind and completely designed and made to order individually for each client, that is able to deal exclusively with the designer, Janice Whitehorn, from the initial consultation, fittings and finishes, dealing with you personally, all the way. Below you can see an example of their exquisite embroidery patterns.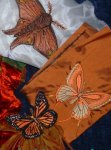 This is a site I recommend for weddings, because they're indeed for a special celebration at least. The collection also offers some models that would be lovely for film and theater too. They're quite pricey (around 3000 pounds) and requires early booking as a limited amount of gowns are made per year (this is good, because it's not a massively produced stock and it does really show. This is really for fairytale weddings. As it's based in UK and it does required some fittings with the client, this website is recommended mostly for people in this country. She makes big sizes too, in fact the gallery shows examples of gorgeous looking real brides. I think the collection speaks by itself. If I were rich LOL ....!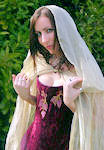 Submitted on 2009/Feb/17