Ye olde medieval wedding dress shop: Bridal, medieval and other cute gowns and coats
Based in UK
Ye olde medieval wedding dress shop
is a shop with over three decades in couture experience and offer a selection of medieval, Celtic, Pagan, fantasy, lotr inspired, cosplay and bridal garments like the following. All are handmade to measure and your custom color.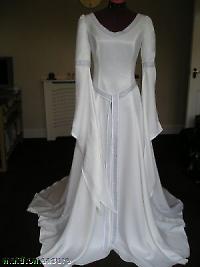 Above: White LOTR medieval dress (it can be done in other colors) made of high quality satin. The wide V shaped neckline decorated with silver braid follows through to a deep laced-up back finished off with a long adjustable garter belt.
They also have some lovely velvet coats. I specially liked it in ivory/white (ideal for Snow Queen Garments) and of course the useful for gothic daily wear black ones.

Ivory Coat... wether ivory or white is ideal for Snow Queen Garments or Weddings.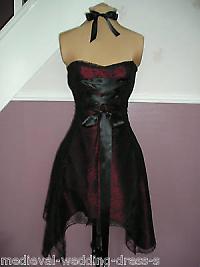 Gothic Fairy minidress
The gowns are made to order so you need to provide your measures so it will be for sure a perfect fit, but you need to be aware that the maker will need a couple of weeks for completion.
If this dress is not your size or color they will make it specially for you at no extra cost!!! Also you can see previous models listed in their ebay store and if there's anything you like you are welcome to contact to get the listing made for you.
All special delivery items are sent insured and will need to be signed for.
If you have any custom request you can also email the crafter directly (address and email is listed below)
Ye Olde medieval wedding shop
Jacqueline Street
5 Glenfield Avenue
Bispham, Blackpool
Lancashire
FY2 0DB
United Kingdom
Phone: 01253 356318
Direct contact email : jackiestreet@blueyonder.co.uk
Submitted on 2011/Feb/08