Reverie of Solace: delicate fairy fantasy couture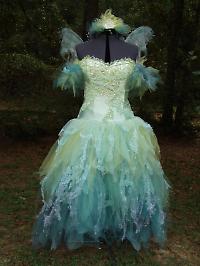 Above: Water nymph fairy dress
Reveries of Solace is inspired in fantasy. crafter Carlota Sisco has been working on it over 15 years. Each desing unique and mingle numerous sources of inspiration from vintage to renaissance, rendered as one of a kind delicate pieces as a result of the combination of multiple techniques sometimes taking months to complete a piece. You can see a portfolio at the official website www.fantasycouture.com. The official site is more a portfolio and also a custom contact email so you can get in touch with the designer and make and get information about a personalized custom to be made. As you can see by the pictures we´re talking about superb quality. FRom vintage to surreal, a work of extreme delicacy.
To see some listings you can check her etsy store where you can find some some amazing costumes like this "absinthe fairy", you can see the insane amount of detail and hours invested in these garments providing an insane beautiful result.
Some are wonderful options for an alternative bridal gown, prom dress or to become a fairy queen in the fantasy and renaissance events. It really shows the high quality. She also have several versions of bridal gowns inspired in the "corpse bride" by Tim Burton that are eerily delicious and an amazing option for upcoming Halloween.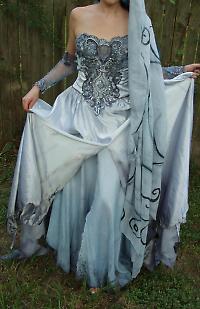 Wedding dress inspired in "The Corpse Bride"
And she also have approached to other well known characters like the following example: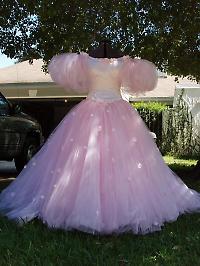 Above: Glinda from The Wizard of Oz replica gown
Submitted on 2011/Sep/09