HolyClothing: Renaissance, Boho, Romantic, Gypsy and Pixie faerie wear!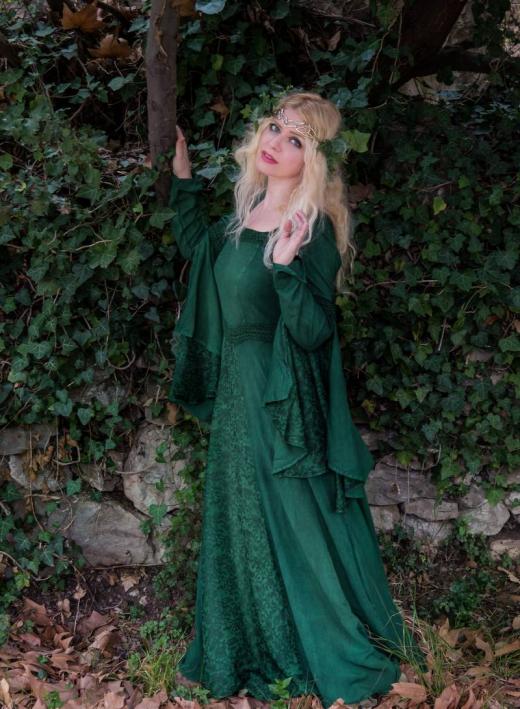 Above: me wearing Holy Clothing Arwen square neck dress in Jade Green (no filter photo so you can appreciate the true colour of the dress)
HolyClothing is a a clothing company based in India that manufactures bohemian-romantic-renaissance clothing in an ethically managed factory. They have hired a team of skilled tailors to offer their exclusive catallogue of garments, tunics, skirts, and tops. This is a rather long article so three words to sum it up: AFFORDABLE+QUALITY+DIVERSE. As a performer of fantasy music I am always looking for these three things and I had stumbled upon this site several times :). So here we go with a full feature!
HolyClothing proves to be an excellent resource not only for those looking for affordable medieval or Renaissance options but also for those wanting to keep a faery-pixie-boho style for their everyday wear. Official site is run in several languages and it is easy to navigate. They offer instant discounts if you sign the newsletter and join their networks, and shipping is reasonable (free for purchased over 99$ actually). I particularly love to dress in "fantasy style" on a daily basis and there are plenty of options to choose from. You can decide if with jeans or with a long flowing skirt, if to stroll down the street or attend to a faery event. Ranging from full dresses (long, short, with and without sleeves) and gowns to tops, skirts, boleros, cloaks and even coats, the catalogue is diverse spreading through different styles. From comfortable and easygoing tops to romantic lace and fluted sleeves. There are even some velvet coats that would suit steampunk or victorian style if chosen in black or brown colour (which are usually available).
If you are in amazon, they also list items in amazon.com including some "prime" articles. Sadly not for Spanish users (amazon.es) yet :) but their official site offer international shipping :).
Below: Paloma Hooded dress in red... perfect for urban Little Red Riding hoods!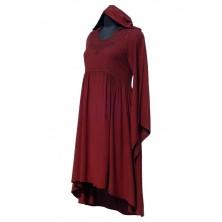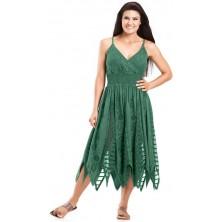 Above: Pixie Boho Georgette Inlay Elastic Waist Zigzag Hem Sun Dress. I love it in Burgundy and Green. Perfect for an alternative "Tinkerbell" and perfect to still feel "fairy" in hot summer days.
Not only they are affordable but they are also of great quality and handmade in fine fabrics. Some pieces feature exclusive embroidery patterns that is also done by hand!. Don't be misled by the price, the actual garments look beautiful and beautifully finished.
They also seek the feedback from their customers, sharing "works in progress" and future ideas and designs through their different networks sites (see links at the end of the article). I'm particularly excited about the ones with long floating sleeves. Garments are pre-washed & easy care. You can wash them in the delicate program of your washing machine and it's recommended to iron on the inside to avoid lines on the fabric. Due to their special dying techniques, this simple guidelines to maintain the rich deep colours are recommended for a long lasting use of them.
The models are offered in solid colours mostly, but the range of options is great. I particularly like that besides the classic black and white, they offer too lush earthly colours like jade and forest green, golden beige, burgundy and browns. And even some lovely purples and deep blues. On limited runs they also have models in less usual colours like silver, pale pink and blue. Almost 20 different hues can be found through the site. They use a special double dye technique, dyeing first in grey and then into the final colour. So whatever your element may be and whatever season you aim for, you will likely find an option that suits you. I love to be able to choose from a big palette, and the fact that some tops are offered in such basic colours also provides pieces that you can easily customize on your own when you are. Regarding this I'd love to highlight their lovely flowing tops with fluted sleeves. It is a compliment to say that the most complex garments are rich but not overdone.
Some of my favourite tops: Isadora top (waiting for them to re-list it in smaller sizes). Due to high demand some of the sizes are not available in certain models but they seem to have a quick rotation for this.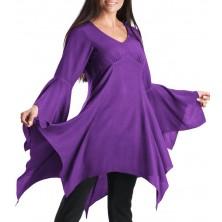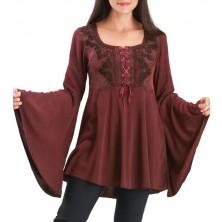 Above: Isadora top in purple and Rhiannon in burgundy. I'd love these ones in almost every single colour they have :) perfect for further customisation, as chemise for bodices, floating and fairy :). They have several models of tops with fluted sleeves or medieval designs.
HolyClothing offer sizes from S up to 5XL so even if you are on the plump side you will find garments fitting. There are fairies of all sizes after all right... and it is really frustrating how limited some brands regarding this aspect tend to be. Each model has a comprehensive size chart with the actual measurements of each piece so you can pick the right size more accurately. But if you still fret about choosing the right size they encourage contact and have a super-friendly customers assistance replying very shortly through their contact email.
Another favourite pick is their "Irish Renaissance" dress (Irish peasant style). Super affordable and basic, great for customisation. I'm thinking myself of ordering one in. They have a model with the chemise and also "over-dress" only options.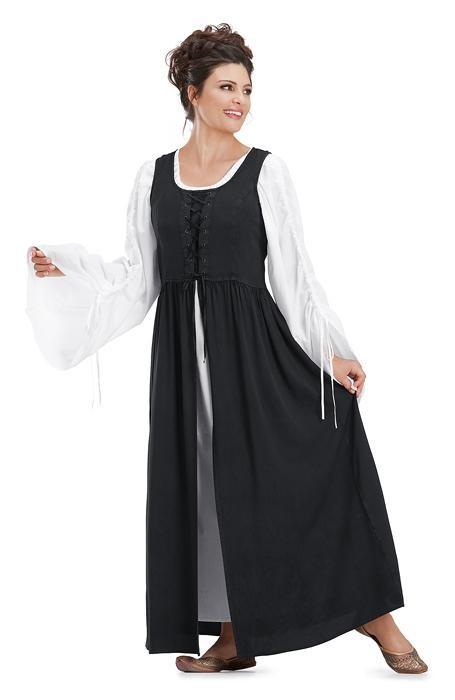 Above: Irish peasant styled Bronwyn overdress and chemise
Below Silver Pewter Gwendolyn Enchanted Flowing Velvet Lace-Up Hooded Maxi Jacket
I like this jacket in velvet green or Silver (as shown) because they are very elven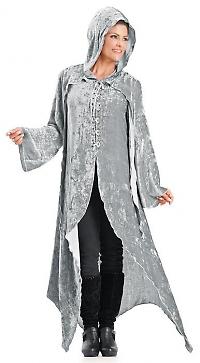 They had the courtesy of sending me this dress Arwen so I could myself provide a review and below you have my "happy client" pictures. The dress is stunning and of high quality, the delicate floral embroidered fabric is the exact same hue as the rest of the dress, due to their special technique of dying the entire garment once it is entirely made, so every trim, fabric and lace matches perfectly. The black lacing adds to the Renaissance feel to it and despite having ordered a size slightly bigger than my own, the dress fits stunningly because it really falls on your curves the right way, enhancing your waist and resting gently on your hips to flow down to your heels. The fluted sleeves are gorgeous and makes you want to roam through mossy green places with it. Mine is in "Jade Green" size M and you can see it below on myself :) and judge if it suits me well. I particularly felt like out of the Lord of the Rings myself! :). I am rather curvy, I have a rather small waist but big hips, the design made me feel like accentuating but not exaggerating my natural shape in a gentle way. I think this one would made a lovely bridal gown. In fact I wouldn't mind to have one in white for a pre-raphaelite mood shooting.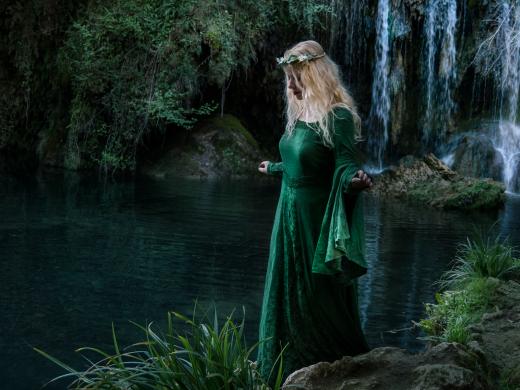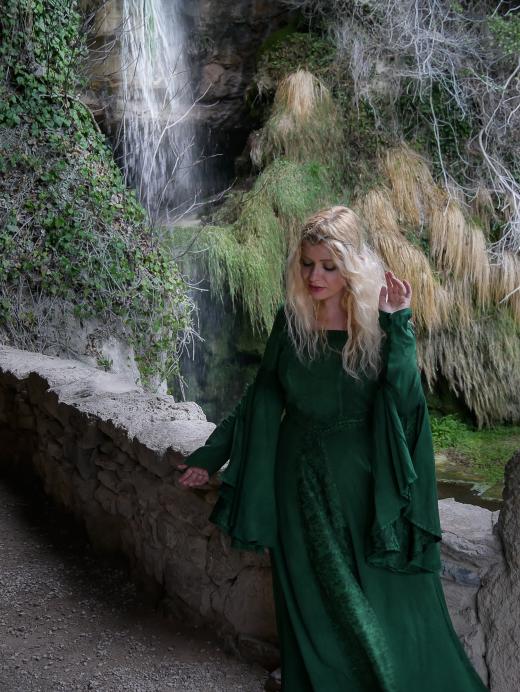 To finish wish they offer an immediate 5$ discount if you sign their newsletter and they keep on making contests and give-aways and networks on constant basis so you'd rather follow them to be up to date regarding these, and may be picked as lucky winner of one to judge yourselves :). They have a satisfaction guaranteed or money back and free international shipping over 99$. In their official site they also have a rotation of "deals of the week" and sales.
HolyClothing Facebook page (almost daily contests)
HolyClothing Instagram @holyclothingfan
In Pinterest you will find pictures of the manufacturing process and installations as well as a "happy clients" gallery :) so you can see the actual garments in real people all around the world.
email: info@holyclothing.com
I will certainly look forward to have more items from this lovely store, for my fairy/fantasy shootings :) bookmarked! :)
Submitted on 2016/Apr/03