Crystal Kitty Cat Faire Treasures: Renaissance skirts and capelets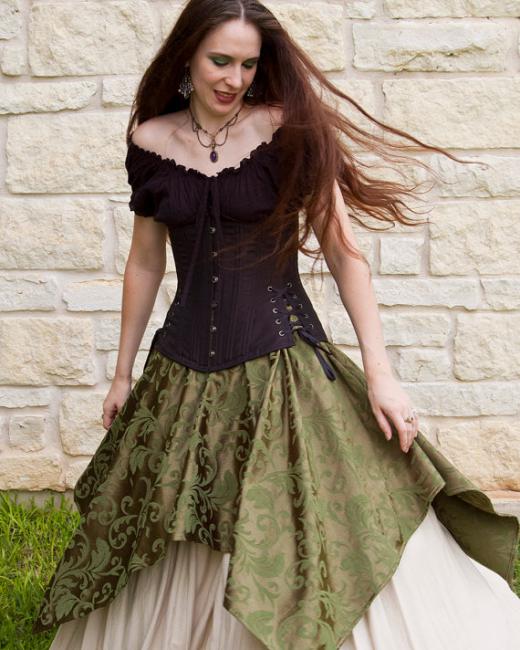 Above: one of my favourites in Faire Treasures, a delightful rich brocade handkerchief overskirt :) She has a full lenth brown cotton gauze skirt that would look lovely below this one.
Faire Treasures is the store run by designer and crafter Crystal Kitty Cat based in Texas, United States. It features a lovely selection of Renaissance garments, from capes to peasant skirts and accessories . Crystal Kitty Cat is a model, photographer but also the seamstress and creator of this lovely store. All items are made to order, handmade and they can be shipped worldwide.
The shop also lists some lovely pixie handkerchief skirts in several colours, perfect for layering over a full length skirt of as a stand-alone shorter fairy skirt easily adjusted with a elastic band to fit several sizes.
I love the selection of colours in her store, olive greens, rich chocolate browns. Some vivid teals but overall matching and organic-nature looking. She seems to list many items in browns and greens (my absolute obsession lately) so a perfect stop for more "rustic" and "forest-dwelling" feeling. Some of the fabrics feature rich leafy brocades. Wether you have to attend a pirate or Renaissance (or even nordic as some of the items have a lovely rustic feeling to them) this is a nice stop on your research.
They are lovely for Middle Ages, lotr, elven or Renaissance clothing but also even as Daily wear for daring "forest girls" (mori girl fashion)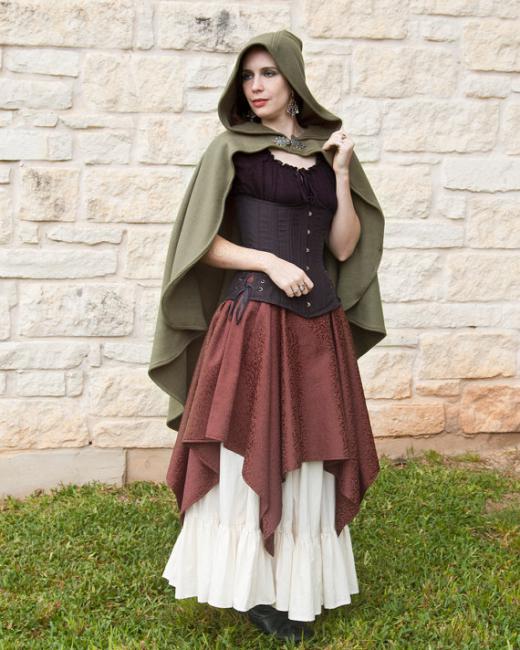 Above unisex draping cape with pointed hood. Perfect for Renaissance Events. Made in Polyester and with a lovely Pewter clap.
She also has some lovely lace capelets (closer to victorian/steampunk) and accessories like earrings and jewellery.
Besides the etsy store, Faire Treasures items are available in Iris Adornments and Apothecary at Sherwood Forest Faire
Network:
Official site
http://www.fairetreasures.com
Faire treasures in facebook
http://www.facebook.com/FaireTreasures
Faire treasures in twitter
http://twitter.com/crystalkittycat

Submitted on 2016/Jun/25