Isis Wings for The Goddess
Isis is a Goddess of Ancient Egyptian mythology and often is represented with this wings... thus the name of "isis wings" commonly used in bellydance. But even if you're not a dancer, this element will make your costume astounding!! A fairy, a goddess... its movement and ethereality is amazing. In one of my performance I shared the stage with my friends the Karinae Tribal troupe and as I use an opaque black isis wings they went on with organza black ones... of course they were amazing with them....! and I fell in love with these wings. In this picture you can see me performing with the Karinae wearing the isis wings.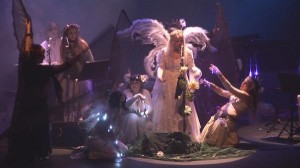 Souldancewings isis wings gallery (based in Canada), i'm in love with the dragonfly model, they have different colours in organza, a bit pricy but looks wonderful. This is my favourite, I'd love to see them flowing on stage.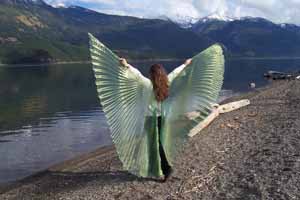 Audrena Isis Wings, she has an amazing range, shimmery and large, they're a bit pricy (around 150 $) but check the pictures at her site, they're absolutely fabulous. Here's another shop with affordable prices and wings in lame and organza called Bellydance with K Boutique In ebay there are some affordable and in rather lovely colors in the store world of Bellydance. Click in the picture to visit the store. They're about 50 $ each plus shipping.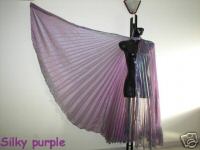 Ebay also lists the most classic models of isis wings. Usually made of shimmering gold or silver metallic fabric. I'm really more fond of organza and opalescent less striking models though a basic if you want to go for a "egytptian goddess" look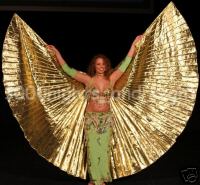 I might be getting eventually a pair for my show in green organza, and white and black are on my wish list too (sigh). They're just so lovely! Though I guess the best thing would be to get the great advantage of this wonderful item and try to get them move as they're intended to... I admit I'm no good dancer... but there are dvds and youtube is plenty of tutorials. Below I give you the link to a DVD with tutorials.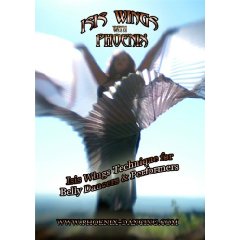 I finish this article with one of the many videos you'll find in youtube to show them in movement. this one in particularly is badly recorded but i thought the performance was rather ghostly ;-) and inspiring.
If you're good at sewing there's a tutorial here with instructions and pattern... I'm sorry but it's only in spanish, still you can see and follow the diagrams.
Submitted on 2008/Jun/26