Aradani: Latex Elf ears
I know you like pointy ears... me too! That's because you're a bit freak... yes, yes, me too!and below you can see me using them... !! :)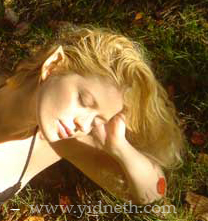 They are tricky though because can be easily purchased from almost halloween or costume store at low prices... but they are hideously looking... and you'll find everyone with pieces of "plastic" hanging loose from their ears looking everything but fantastic... :/ arg! So this article will give you an affordable alternative!

Aradani Studios is a company run by Michael and Paul Bielaczyc that specializes in making hand-painted latex elf ears as well as other costuming products like ear cuffs, latex make up and more...! No matter what's the colour of your skin (they offer them for light, medium or dark skin and also unpainted along with make-up palettes so you can customize them) or ear size... (you'll find tiny hobbit ears, longer elf models and even those lovely long anime elf ears line in Lodoss Wars) even if we all know a custom mold cast from your own ears is always the best option and not very difficult or expensive either... the truth is that Aradani offers a good variety in affordable prizes and good quality... I gave them a try and purchased their "small ear model" in light skin colour that you can purchase here. Below I post some pictures and their auctions in ebay, where I purchased them, the price goes from 15 $ in the small elf ears to 35$ in the longer models
Yes, there´s always a noticeable line that you have to mask but they also offer some lovely ear cuffs for that.... (it looks like these guys doesn't leave any chance to question their work ;-) which is good)-. To end with this little article I want to remind you not to forget your Spirit gum to glue them and a remover (if you don't want to suffer when getting them off). And remember that only a few drops and some care is needed for attaching them... do not abuse of the glue or you'll feel an aching tearing after a while of wearing them. Click on the pics to purchase the glue and remover (a must need!)
Aradani also have several masks, makeup, satyr pants and other props... Though they are mostly known because of the latex ears, they´ve been increasing their list of items covering even some very well known characters like "Darkness" (the Demon of the movie Legend) among otehr custom works!
Submitted on 2008/May/29