The Faerie Wing Shoppe: sparkling fairy wings with lights!!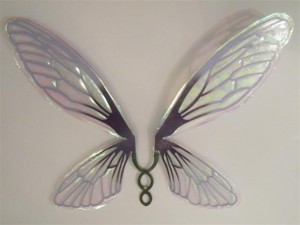 Above: The faerie wing shopped luna wings model
The Faerie wing shoppe is a company based in UK that manufactures hand-made light weight and realistic fairy wings designed by SarahDuxbury. Yes, in UK, when most of the wing makes are USA based, here's a closer shop for customers in Europe. The wings take around a week to be made and range from iridescent several tones membrane to some gorgeous models with lights. They remind me a little bit to the delicate wings of Kira (from The Dark Crystal movie). You can order with different vein patterns, colors, material and with or without lights. Basic pattern comes strapless so they will look even more realistically attached to your back but if you feel safer with them they can also be added by request. If you have of course any other idea in mind she's open for discussing to make the just the custom perfect wings you have in your head for that special occasion.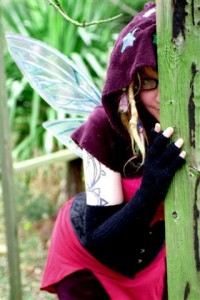 Above Lilly wings with Helen Robinson from tpf faerie wear (to be covered in future article) And this is just lovely, some lights added to your wings will make you flow in dim light... just like fairy magic. I absolutely love these... specially that they're just not too colorful... just the right amount of elegance. Looking forward to see them real life as she'll be attending the upcoming 3 Faery wishes festival in UK. I'm making a compilation of items in an article called "glow in the dark" that is coming soon in this blog... so i'll recatch these fabulous items. Stay tuned!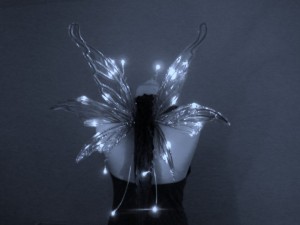 You can also commission other materials and ideas like the following: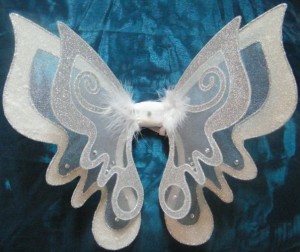 Above: Silver and white with clear ab Swarovski crystals and swarovski crystal straps Didn't you just love them? I'm sure you did so check Faerie wing shoppe If still looking for more ideas don't forget to check previous fairy wings articles too: -On Gossamer Wings -Faeries Closet -Enchanted costumes -Art of Wings (branches) -How to make cellophane fairy wings Preparing now... fairy wings of Renae Taylor... coming soon!
Submitted on 2010/Jun/07