Cellophane fairy and insect wings tutorials and more...!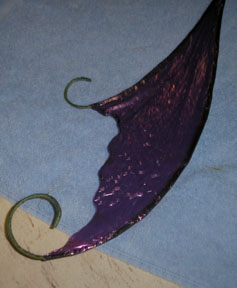 In one of our previous featured videos you saw how to make your fairy wings with stockings, here is another alternative way of making them, maybe a little bit more fragile using wire and cellophane. Cellophane and vinyl gives those transparent effect that makes the wings look more like an insect than a butterfly. If you're good at crafts there's quite a wealth of tutorials that will teach you to make them. If not there are some affordable models around the net that will delight you as well. In this Karenwhimsy website you'll find some free templates you can use ... though I recommend to design your own wings... after all it's what they will make them special If you're good at crafts Faerie Muse show you a step-by-step guide about how to make them. Please click on the picture to see her website.
You can also download a pdf from this another artist performer website of how to make cellophane wings here (pdf) This other site offers paid tutorials (rather cheap though) to make different kind of wings, looks like they're focused on doll wings but the techniques would be useful in any case and they have tons of pictures too to inspire you .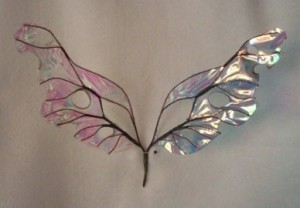 If you want to go a step further and have not time to make your own but want an outstanding pair of wings made of cellophane and thus affordable, then you can visit my FAVOURITE website about fairy wings that in fact we´ll cover with its own article very soon: Enchanted Costumes that has also a cellophane wing section much more affordable than the ones made of fabric. Aren't this amazing? And they have a reasonable price too. I'm afraid they might be delicate but they look absolutely gorgeous. I have a few custom-made wings from Tammy and they're amazing, I shall cover them in other article, so far we're focusing on the cellophane wing models.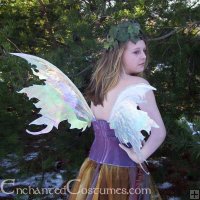 Another website with similar wings, in this case made of vinyl and not cellophane is Fancy fairy, a site devoted to fairy wings and fairy gowns. I confess I wouldn't mind to grab a clear iridescent pair of Kira's model (inspired in my favourite movie The Dark Crystal movie), though I'd like to see them close first, but of course also in my wish lists. You can buy them in different vinyl colours, from clear and purple (my favourites) to yellow and green. You also have ones with copper/brown structure and others that have them plain black. Click on the picture below to see their wings store.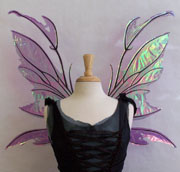 Fancy fairy also keeps an ebay store where they sell affordable fairy dresses to go along with their wings and from time to time some wings auctions. I hope you had fun!! of course there are more articles about wings of all kinds coming soon!
Submitted on 2008/Jun/18