Enchanted Costumes: Eternal one of a kind fairy wings and gowns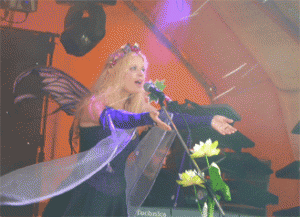 Enchanted costumes is an american company that is well known for making the finest fairy wings. They have a great selection of fairy wings on their web. Each one is meticulously hand crafted for your special event, whether it be your wedding, photography studio, or a costume ball.
Made with beautifully sheer iridescent and crystal organza in a wide variety of colors.
Ribbon covered wire frame, that can be easily adjusted for different looks.
Satin stitched veins to match or contrast in the highest quality industrial embroidery thread available.
Fully customizable in organza colours, we're talking about durable wings. They're not particularly cheap, but they worth every cent. You'll be able to fold them up for travel, have your wings intact even after the crowdiest party.... show them off! they're safe and well made, and you won't regret to have a pair! (or two, or three). Enchanted costumes offer cheaper wings made of cellophane, that we previously talked about in another previous article....But let's face it, the expensive brand, made of organza and with embroidered veins are simply the most outstanding and lovely fairy wings you can find out there. I am a professional performer and also visual artist and designer and I chose Enchanted costumes to manufacture the custom designs that I use in my shows. In fact she sells the "Ancient Shadows model" (see below) which has actually the name of my music album "Ancient Shadows"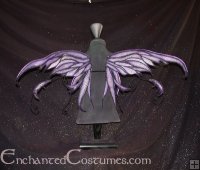 Below there another model of wings that were custom made as an exclusive called "ghost fairy wings" are now a really and very pivotal part of my show, and I´m so glad she made them for me, they're simply the most amazing wings I've had on. If you move gently they even flap a bit in a floating mood. Simply amazing. These were made to look a bit eerie and ghostly, and sometimes I put false spider cobweb falling from it, look so spectral behind the fog....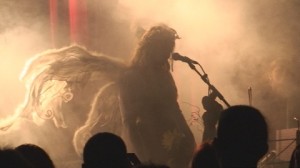 But she has also lovely models that you can order in big sizes.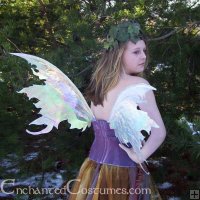 Tammy has also made a model of fairy wings for devotes of the movie Ever After, inspired in Cinderella's story. The movie has become a fairy tale classic in very few years and have a nice ammount of followers, so Danielle's Ever After Gown has become well known and recognizable option in fantasy parties that we'll cover in detail in further articles. But for now... Aren't this a lovely imitation of the Ever After' Wings?
Just Breath!! Below you can se original Ever after picture and the Enchanted costume replica!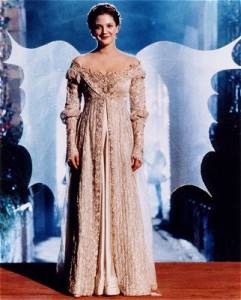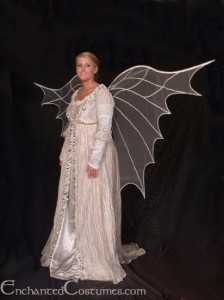 Submitted on 2008/Aug/26