Luna Rana and Silver leaf Costumes top hats and other Mad Hatter´s non birthday parties needs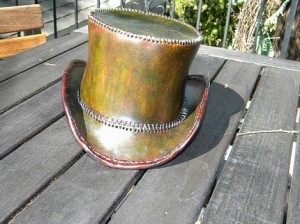 Last Faeriecon (a fantasy fairy convention taking place each year in the east coast, in which by the way I've been performer myself the latest two years) some of my friends from band Woodland and Faun where showing off their fancy top hats... Hmm I should have followed the clues into "Luna Rana" stand but it was way too hectic for me to visit the booths then, and now I'm trying to catch up with all the cool stuff that I missed :). I saw this lovely top hats close, so I can tell you they're the best quality! and they really look cool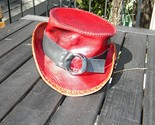 Another example, they're super cute!
so go and grab one from LUNA RANA top HATS. I saw them, they're great, xmas at the corner, c´mon!!
Still unsure...?
There's another lovely shop called Silver leaf Costumes that features some delightful top hats too. I'd this one in Steampunk style. They also have some lovely mini hats and are lovely too. So complete your research with this SILVER LEAF COSTUMES top HATS. I think among this two stores you can find one that fits your style, mood and head!!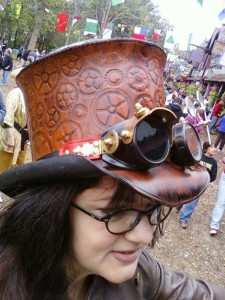 Above: Steampunk hat from Silver leaf
And my favourite from them :). I think I'm still more on my leprechaun side :). I certainly wouldn't mind to have one of these (listed also in lovely red)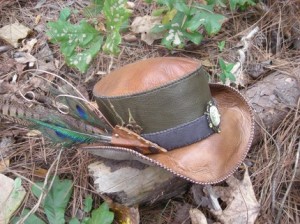 They all looked like Mad-Hatters in a lovely way and I couldn't get out the poster of upcoming Tim Burt0ns Alice in Wonderland movie. Sure this girl is going to increase the sales of her hats by the time the movie is out.
Need more... have a look to this article about Blonde Swan hats, they have some hats inspired not only in the mad hatter but also in Alice and the Queen of Hearts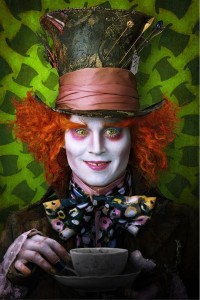 Above: Picture from Tim Burton's
upcoming movie Alice in Wonderland
If you want to go on investigating that line. He looks weird huh? I sort of love the make up so...
This is a make up tutorial to mimic the Mad Hatter´s from Tim Burton's next upcoming Alice in Wonderland movie. By the way for the tutorial they're using "glamour doll eyes" eyeshadow that I certainly recommend as they have some striking color mineral eye shadows.
Submitted on 2009/Dec/11