The twilight parlour: corset, vintage, burlesque and lovely victorian dresses...!

The twilight parlour is the home website of AZAC designs and Azrael´s accomplice designs where they list their corset works, underpinnings, bridal gowns, masquerade and cocktail and masquerade gowns... A delightful, strange, alluring and beautiful collection of the highest quality to discover. The company was founded and still run by the skilled and creative designerTracy Robertson, known as "Batty" in the underground fashion/subculture. The passion behind the designs is really obvious, nourishing from vintage, modern, historical, gothic and a wealth of influences. So here I go with some handpicks so you can make an idea of what i'm talking about!

Above: Fairytale princess dress: Though it can be obviously used as a wedding dress I like this dress cos it reminds me a bit to Sarah ball gown in "Labyrinth".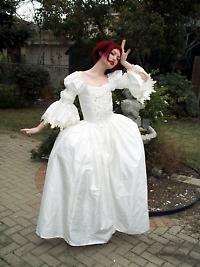 This is another of my favorites This gown is based and inspired their popular fairytale princess gown,but slightly adapted to reflect the styling of the White Queen gown from Mr. Burton's movie Alice In Wonderland.
She also has lovely some rococo and Marie Antoinette designs that we have mentioned in our article "Marie Antoinette and other rococo fantasies"
In the mood of some victorian/ghost/steampunk?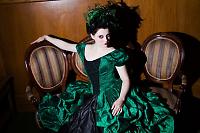 The Ghost Town Belle gown is a decadent journey into Victorian style and modern wear-ability.The gown is made of a delicious combination of high quality 100% silk dupioni, shiny lustrous satin, and gorgeous beaded lace. It can be ordered in different colors.
They have also an Azac etsy store and also one in ebay where you can see some of their listings. Be ready for some gorgeous garments!!
Submitted on 2010/Sep/24