Learning to sew yourself yes, yes!!! make your own fantasy costume! Plan fantasy parties!
Well, you may all know that I like fantasy costumes... in fact I keep a blog about fantasy costumes called YOUR FANTASY COSTUME :) I created a while back to bookmark all the fancy things I like (or would long or crave to buy for my performances hahah). Anyway, as I'm an illustrator I like to draw and design garments... the problem was that despite making some crafts like crowns and some easy customizations I really never had any skill for sewing... yes... not even a button or fixing a sock!! But last month my friend and designer Alassie (from El Costurero Real that we previously covered in your fantasy costume article "El Costurero Real: King Arthur´s legends") encouraged me and a couple of friends to make a garment for ourselves to attend to her faerie birthday party and for a couple of weeks, all girls gathered on a weekly workshop :) to learn to make our own garment for the party... So it was FUN and we were busy bees and it was so lovely to see that we were creating our own dresses... I felt very accomplished and I know it´s my first and maybe not so perfect (almost hand-made too) but I had never done anything before so I was really proud.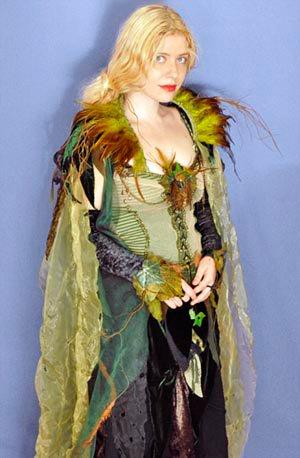 Here´s a pic of my green dress... the skirt will now grow (because a friend got me a sewing machine as a gift and I'm learning to make things easier) and I definitely will make add bits to it, but this is how it looked like :). I used faux branches and leaves and I also used a trim of feathers (you can buy these on Ebay... if you need a reminder you can read back our article "Feathers of all kind and colors"). I just got an inexpensive sewing machine for next project.
Above: Me with my first self-made self designed Dryad Green fairy dress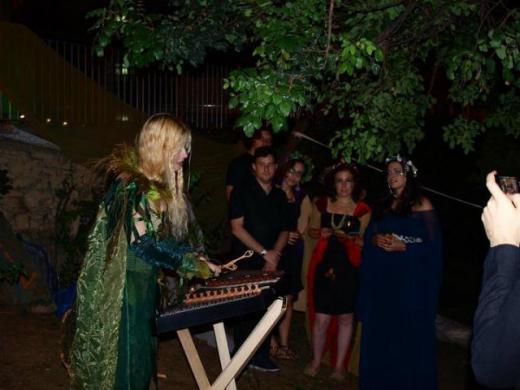 I played a few songs with my hammered dulcimer (humble acoustic performance for really lovely friends) including some excerpts of tracks from the following album on the making "The Underliving". My friend Jorge Lamata joined with the guitar in a few... It was really cozy and personal.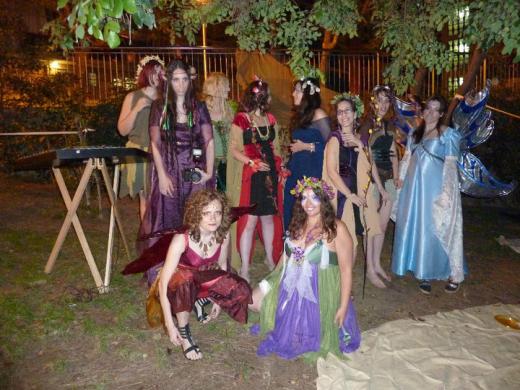 Above: some of the people attending with their fantasy costumes to the birthday party... isn´t it a cool idea? why not to spice your wedding or your anniversary or a friends meeting with some color, fantasy and fun! We all had a great time... so give it a try... it´s a good excuse to use your fantasy garments! See how they had no experience and they all make a super job!
Submitted on 2010/Aug/27