METAPHOR: unusual accessories with a spark of darkness!



Metamorph is a store that features a collection of items and accessories that will delight anyone with a darker edge. From lovely spats for your steampunk or victorian, circus or burlesque dress (and believe, shoes are always so difficult to customize!!!) to corsets (both under and overbust), delicate vintage lace gloves, feather chokers, leather collars and gauntlets and more... Some items have a spice of retrofuturistic yet with a gothic and victorian style, above it all it features a collection of exquisite ideas with that sexy vintage feeling! Some of the items are made to order but they have reasonable time schedules for that.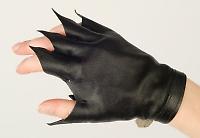 Leather claw gauntlets. I want these for my bandmates when performing... they're way cool and so theatrical!.
Below some example of "spats" that were primarily worn in the late XIX and early XX century it was a classic shoe accessory covering the instep and ankle of the boots)., Very useful for your Steampunk/Victorian/vintage dresses. You can tell them also a custom measure around your ankle to make sure they fit. It's so easy to find the right shoes for vintage garments that this is an excellent option to do so.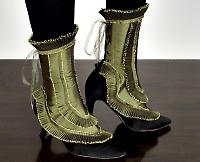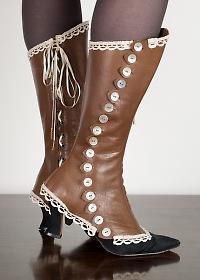 There are also other kind of accessories like gloves and belts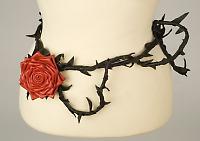 I love this "thorns and rose" belt, which can be used also as necklace or headband. The length is approximately 110 cm. and the rose has a diameter of about 10 cm. I know a fellow friend of mine that would freak out with this one. I see it also very suitable for bellydance as it can direct attention precisely to that area and it has a spice of tribal too.
One of the things I'd pick right away as useful (maybe because I'm portrayed as raven in half of my shows) are these versatile little wings/choker/feat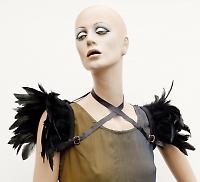 I love this one that you can also wear by the way as a choker!! Very suitable for those ones wanting to portray a raven, and suitable for lots of styles from barbarian and tribal to modern. It's made of gorgeous iridescent coque feathers are placed on the shoulders with leather strips, that can be adjusted with buckles. With the feathers reversed the shrug looks like puffed sleeves.
but then ohhh the corsets! Just have a look! wish I could fit so nicely as the models though LOL!
By the way they have an official site devoted to their custom corsets work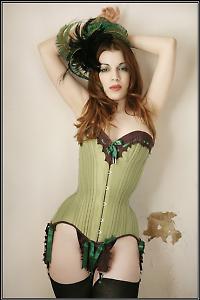 Custom overbust green corset
Submitted on 2010/Sep/17