Fantasy Masquerades/ Denim and Diamonds... Sexy Burlesque outfits to shine!

Denim and Diamonds Specializing in custom made Burlesque, Moulin Rouge, Chicago, Showgirl, and Saloon themed costumes. Bring out the entertainer in you, or combine and use them to make it the base of your fantasy dress.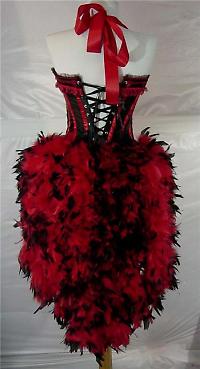 Ranging from professional feature entertainers to Halloween costumes. They are based in Chicago, USA but ship worldwide. This store really list lovely sets for a fair price.The corsets are fully boned and has hook and eye closure on front. As most items are custom made by order you You need allow 1-2 week production time after size request is received. If you need your costume faster please contact me to find out if it is possible.
You can also see some auctions at their Denim and Diamonds/Fantasy masquerades ebay store.
Oh I randomly found the above two sets and I ended up craving for that Angel lovely white one... and a full black, and... and... lots of pretty things for sure. I'm more inclined to full white and blacks as usual but they have lots of color options and different models.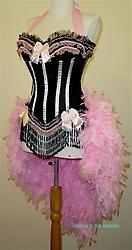 Above: Elegant burlesque style costume made with a black bodice base accented with lots of pink ribbon and lace. Great fir a Vintage Circus costume. They have similar ones in read and black or plain black (more suitable for gothic souls). I'd wear them over a skirt to make a fully dress but if you have the luck to have long slender legs this is your way to catch every gaze upon you! The pink models I think are also very fitting for upcoming Valentine... I'm sure your boyfriend would open his mouth till the floor if you hold a heart with something like this on.!
They also offer some accessories, I like in particular this mini skirt that can be used for tribal bellydance or een over your jeans to make your daily wear more edgy and stunning. Pretty!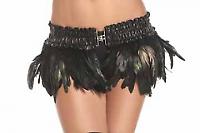 Above: mini skirt with black rooster feathers.
You can also network with Denim and Diamonds at her facebook page
Submitted on 2011/Jan/21