Disney´s Brave: Princess Merida Cosplay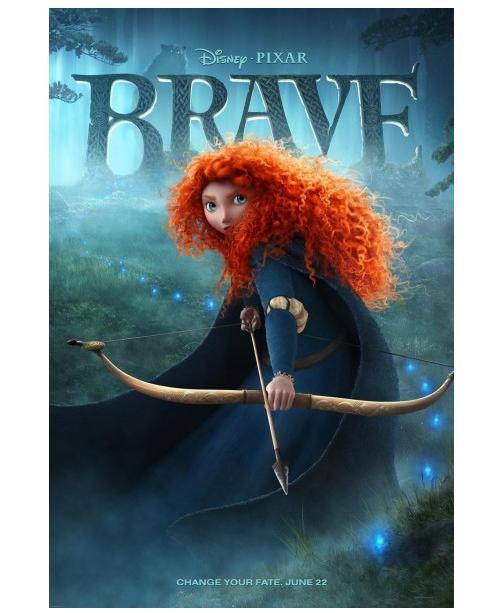 Princess Merida is the Disney/Pixar free spirited lead female chracter from the movie "Brave" (2012) set in the XII century at the Scottish High lands. With fire red messy curls and glittering blue eyes. In this article we´ll give you some tips to cosplay Merida, who far from being a "damsel in distress" is a tomboyish, BRAVE natural beauty.
So here some ideas if you want to cosplay this endearing character :)
To start with herre's an example of a cosplayer doing Merida´s in the right way. You can check her tumblr . Her name is Angela and she's really clever when making her own dresses and cosplays but she turned out to be really an almost flawless Merida. You can even read some step-by-step advice and tutorial with some clear hints for the gown pattern of how she made her dress to achieve it.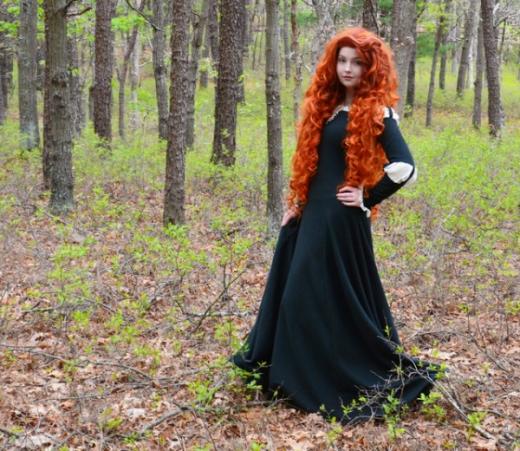 In fxguide there's an article about the movie that can also provide ideas about the making of the XII century style costume http://www.fxguide.com/featured/brave-new-hair/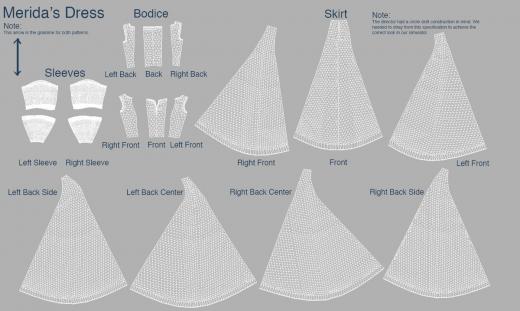 If you need to have the pattern there are several options, one of which are the McCalls patterns
dress pattern
Here is a video of another cosplayer and their proposal for Merida´s gown and she also provides links of where she purchased the fabric, celtic trim, wig, and other materials to complete the attire.
Make up:
Use some subtle make up, It's all about natural look, though you may use foundation to conceal the blemishes of your skin and appear more flawless. If you have a darker skin tone use a foundation slightly lighter than your natural tone, you want to look like a natural red head. Add some freckles (if you don´t have) and pink blush over your cheeks and nose. Use a natural pink lipstick and maybe smudge it a tiny bit to use the lipstick as "stain" and a bit more "natural looking". If in need use some matching lip-liner to make it look less messy. For the eyes, keep make up really simple, use some brown eyeshadow as eyeliner to define them but do not overdo. Stay natural. If you don't have blue eyes you can get some colour fx lenses (circle lenses even better because they will make your eyes to look bigger and more cartoonish). For this purpose you can check for example shops like Kiwiberry contact lenses collection (which are cheap and will do for this case). One advice, don't forget the eyebrows, if yours are light, fill them in with a little bit of led. If you happen to have dark eyebrows conceal them first with make up and then apply some filling with red/bronze eyeshadow or pencil.
Here is a video (It is spoken in italian but as it's almost at real time I found it useful and clear enough and didn't need captions to understand it). So, to summarize
Below: handmade custom gown and chemise inspired in Disney´s Merida´s princess gown made by "The Modest Maiden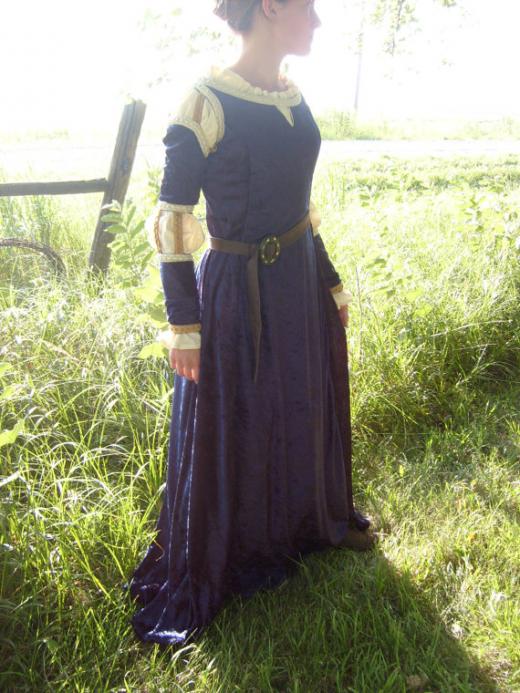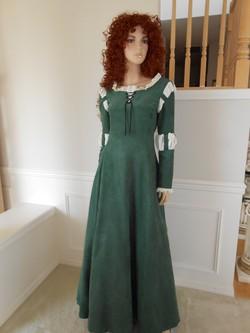 Above: One of the many gowns inspired in Merida´s dress that you can find available in ebay. This one belongs to the seller "designevent" but there are plenty of cosplay resources and also wigs fit for the character.
Merida´s hair
In ebay you will find plenty of wigs if you look for Merida´s wigs. There are a wide variety of prices but beware there are also some shops that uses pictures of wigs that are not the actual item that is sold. Check the most popular ones and as I always recommend with ebay products check each individual store feedback rating. Still there are plenty available at affordable price. You don't want a shiny artificial looking orange but a more matte and natural red haired model.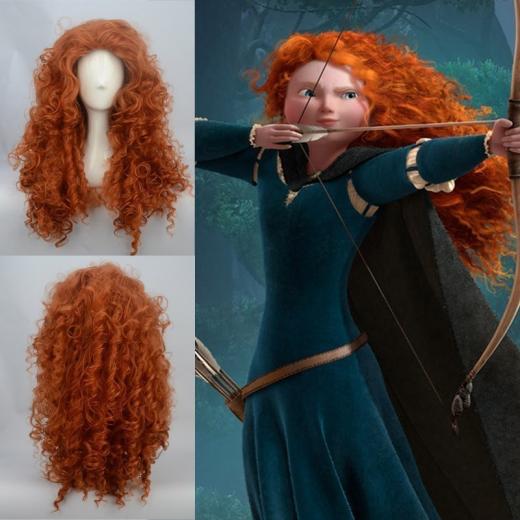 Above: Still I'm going to make a recommendation for Merida´s wig I found more or less realistic, it is affordable (35 $) sold by Wincosplay store in etsy, and I find it very natural looking. I also find it fitting for those of you who want to portray princess Sorsha from the also fantasy genre movie Willow.
For the Archery set you can also try etsy, there are several sets available in the market, in fact there is an already made dress for children and an archery set available at the official Disney Store. And you can find some already made archery sets in ebay like this one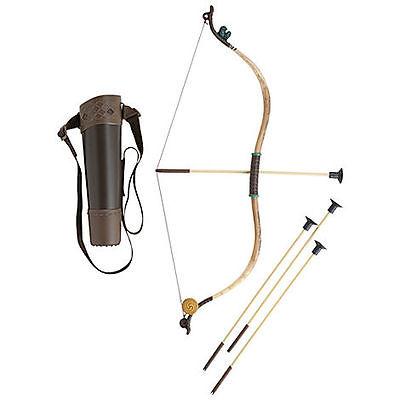 But if you want a more "realistic" archery set you can try an historical shop like the Larp bows you can find in Medieval collectibles
http://www.medievalcollectibles.com/c-543-larp-bows.aspx
Or you can surf in etsy to find different crafters options, I highlight this example made by Enchanted Crystal Rose, a store that seems to specialize in replicas of Disney movies characters.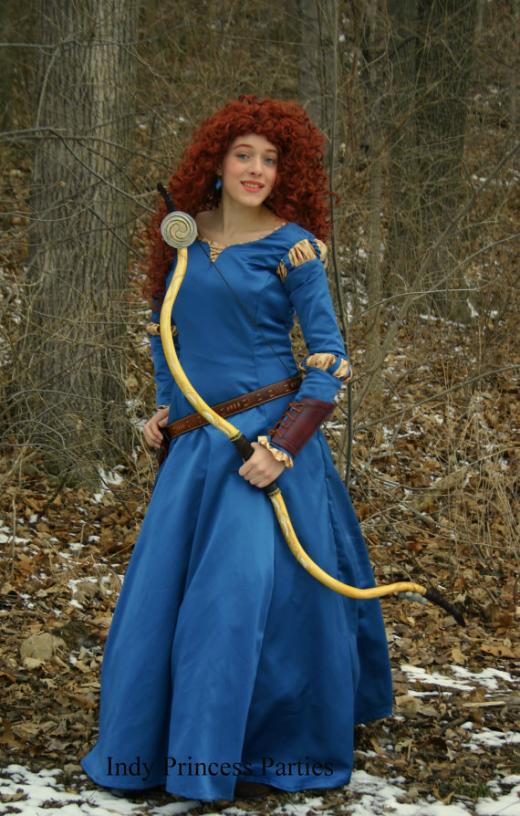 So that's all for now, as always we´re open for suggestions and we´ll keep on updating the article so feel free to "bookmark" it. If you have cosplayed Merida, we´ll also be happy to add your pics to the gallery and welcome your own recommendations.
Girls! Have fun! and be Brave!
Submitted on 2013/Dec/04