Folkowl: Gorgeous Hand felted faerie and pixie wear
Folk owl is a store based in UK run by crafter and designer Angela Shannon. And what can I say? Is there anything more pixie faerie natural and wild looking than these awesome magically inspired pieces. I'm not talking lightly, I try to make my own felted crafts from time to time, and this makes me feel like a total failure :)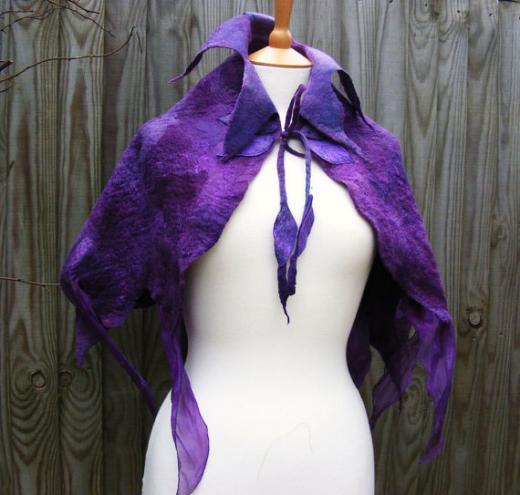 Above: elf cape, getting this in Woodland colors... so excited! Love the standing ruff! :)
The designs sometimes are so simple and so clever, not to polished, a bit ragged, wild looking they look like naturally made out of fairy hands. :) Also many of the accessories like scarfs and gloves are perfect for urban pixies too when venturing out of the forest. She was raised close to an enchanted forest in England herself so nourished from a privileged nature to inspire her with the fallen lives and the wind haunting songs.
The collection deliver also a eco-friendly edgy style, in fact the items describe the use of ethically sour and it's not only useful for fantasy costumes but also for daily wear. At least for those free-spirited daring fairies like me :)
Another of my favorite items, the tattered scarfs, perfect for an autumn fairy or even dryad dress.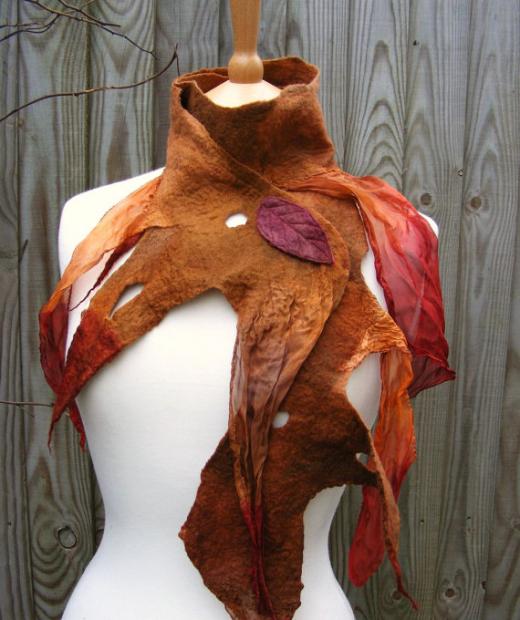 In several colors and shapes. I particularly like one snowy white they had. Looked very wintery and wolf-like :) But no autumn no winter? are you maybe a spring fairy? even so you'll find lovely things as perfect fit :)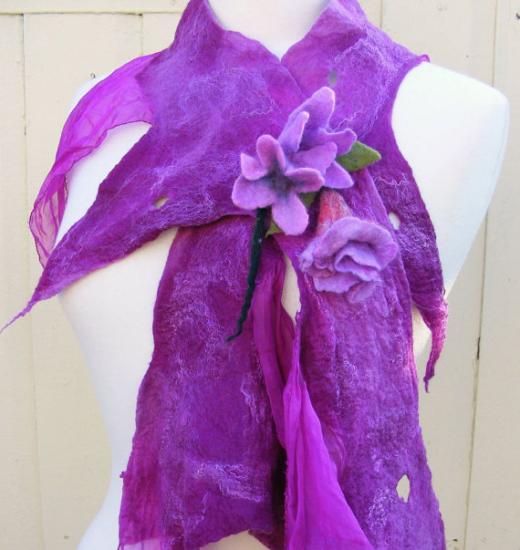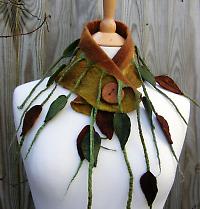 Above: felted pixie gloves. Many models availables. The cuffs corset close at the backs using felted ties adorned with handmade felt leaves. The cuffs are therefore fully adjustable to most average hand sizes.
She tends to make lots of thing in lines of very earthy tones, greens and browns so many of the accessories seems to combine
And going with accessories look at this fairy bags! !!!!!!!!!!!!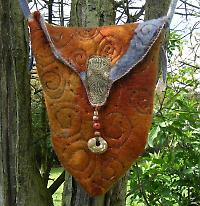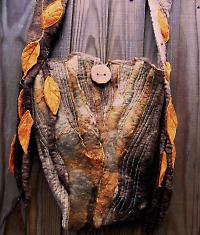 I love their ancient look, look at that rustic wooden button, :) and for any reason the one above remind me to the Mystics from my favorite movie THE DARK CRYSTAL. It is very froudian some how and I love that.
There are also some hip belts with pouches and even more, hoodies, even full winter coats, and I'm sure if you have something in mind Angela will be pleased to know about it to make it done ! :)

Oh yes this article is a bit pic-heavy :) I know. That is because I was like wanting every single thing I was finding with greediness :) So I spent my while surfing all items and I was delighted, that´s the word, and inspired too :)
You can also network with the designer by liking them in Folkowl in facebook so you can also see some of the already sold products in their portfolio gallery just in case you want to commission a similar piece if it's not listed or sold.
Edit/Update :) Angela, the crafter from Folk Owl was kind enough to send us a courtesy green felted green cape :) so I'm happy to post here a picture of myself wearing it :). I really saw with my own eyes how pretty and vivid the green was :) <3 it. Thank you.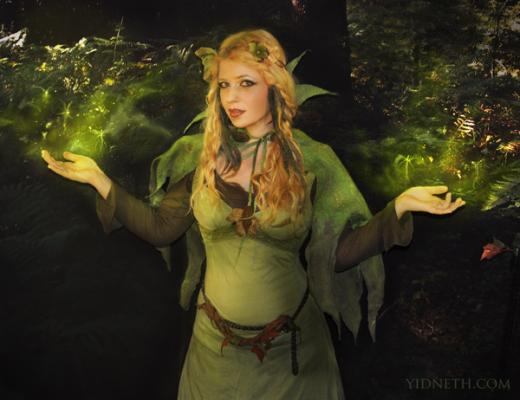 Submitted on 2013/Feb/02