Princess Leia Slave Bikini... always the sexiest option ;-)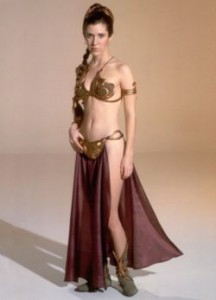 The Princess Leia's slave bikini has been indeed very popular in fairs and conventions... and I has leave on as iconic since the "Return of the Jedi" movie. It's very sexy (for those fortunate girls that can wear it (not me right now ;-)). I remember when I first watched the "Return of the Jedi" movie in which actress Carrie Fisher was wearing this infamous and rather scarce of fabric costume, that she looked absolutely great, and it's in fact I wish I had that body (sigh!). Still if you need to refresh your memory...
here you can find the old star wards trilogy and The return of the Jedi movies


You can read a tutorial to make your own in this website "make your own princess leia slave bikini" and also read a lot of the background story of this garment in the star wars wikio page There's even a website to this specific Leia's garment called Leia's metal bikini. There you´ll find tutorials and also you can find a costume (aprox 350 $), a must see resource for lovers of this garment.

If you need the full thing and quickly and have the money you can try this etsy store "twisted world" from bra to leather boots as portrayed in the picture below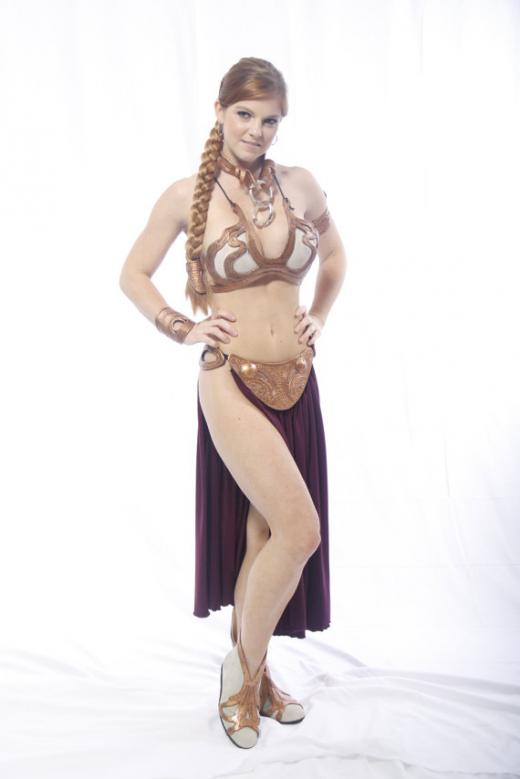 If you want the most accurate replica, Metalbikini2002 ebay store can make you one, then It takes 2-4 weeks to get one of these but it's indeed amazing, it's only for the hard parts casted in resin, then you'd have to manage to add the fabric parts, but still the detail of the replica worth in this option. It includes also the boots parts :). Click on the picture. You can also customize the color and some other options. It costs around 400$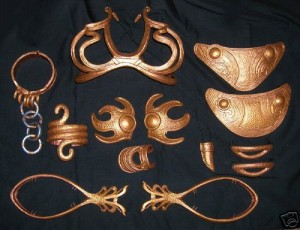 Another high quality option for your Princess Leia costume below:
Another version that you can buy in Halloween costumes and quite affordable and nice looking (includes bra trop, necklace chain choker, headpiece and skirt)


Above: affordable slave leia costume at Halloween costumes BUT PLEASE don't use those shoes... get some faux suede and make your own shoe cover or customise a pair of boots, or look for replica of them! here's a picture of the original Leia so you can see the shoes! And example of replica found in normal convention garments. As you can see they are flat soled moccassin style suede boos you'll need to cut open an "v" and add the topping, but you can find some already made ones too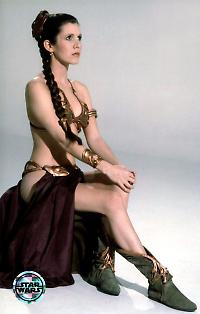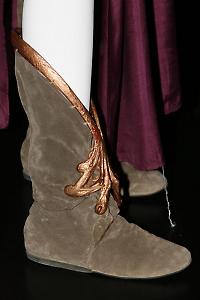 Slave leia Boot detail. Here you can find an specific tutorial on the boots
Polishing details you can add this handmade collar with chain included... to accent the "slave mood" in a precise way.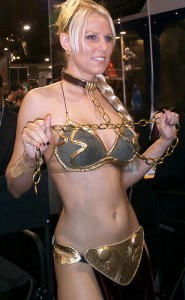 And even some hair extensions with a long braid that you can match with your own hair color if you're not wearing such long hair.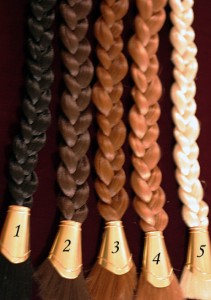 And you could be freak enough to wear your dog as Leia? hmm maybe YOU are ;-). I personally found this so extremely cute and I cannot resist to post it here... awwww! You can find it in fact in several sizes :)... though poor creature....!
If you feel crafty here´s a TUTORIAL with tips to make it yourself!! And here is another slave leia step by step tutorial with lots of tips and tricks including the shoes and lots of tiny details like the earrings she wears in the movie!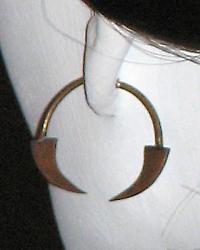 Above: Detail of slave Leia Earring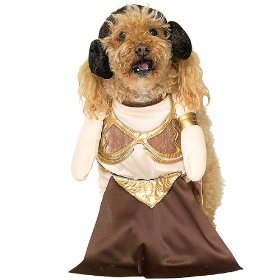 And to finish this article I wanted to remind you about an earlier article about the crafter "Organic Armour", that offers similar yet very different models of bikinis of this kind, not exactly the Leia's one but in a very similar mood.
Here you an see a video with an example of costume so you can get an idea of how it can look (or has to look ;-) because I do definitely have not the body to make it justice!). If you don't have such pretty body or need an urgent depilation, this dress is though a must avoid... hahahah (please don't do/look at this picture this is an example of a Slave Leia costume gone WRONG!)
Submitted on 2008/Jul/14