Well dressed Lady: Court dresses for Noble Ladies
The Well dressed lady is a company that makes lovely historical garments at really affordable prices result of the work of the designer and seamstress Frankie Laporte, based in USA. Mostly custom made to your site they also have some ready to wear things. It includes some lovely historical garments from elizabethan, Boleyn, italian renaissance... but also quite affordable and ready for a wide range of budgets.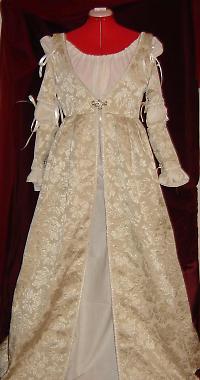 Above: Italian renaissance dress, one of my favorites, perfect for a Juliet dress or also similar to the ones in the movie "Ever After"
Aside from the official site where you can see a gallery they also run a "well dressed lady ebay store" where they add some listings and offers so you should not have to miss to bookmark it as well.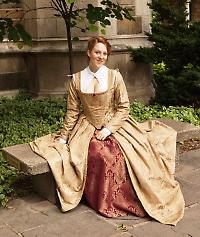 Above: Gold Elizabethan Renaissance Gown
Stunning damask gown in gold/bronze with burgundy accents. Complete ensemble: boned bodice, pleated overskirt (for which you may need a bumroll or hoop to highlight), forepanel, and tie-on sleeves. The dress can be made in other colors but you need to request information about that matter.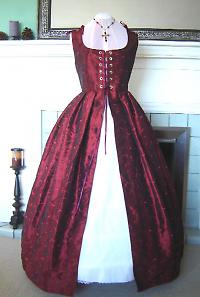 Embroidered taffeta overdress, this color is lovely for a Christmas spirit or Mrs Claus too, and can be ordered in other colors as well


You can find also some undergarments like blouses and chemises to wear below the overdresses like this one in cotton muslin in ivory or white that you can request in custom length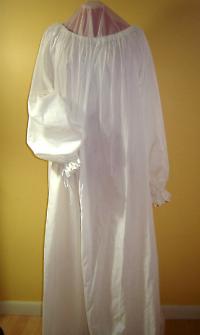 All items are custom made to fit your size and the listings keep on changing. I'm also sure that the seller will welcome to commission any of the items that they've sold as most of the items are couture made only.
Submitted on 2010/Sep/27