Opal Moon Design Tribal Sci-Fi Fusion and Bellydance costumes

Costume designer Kerrie Kordowski is the crafter behind Opal Moon Designs. Originally from New York now she´s relocated in Los Angeles where she works as costume designer for the film (see her imdb profile) and music industry, while also designing for her own label "Opal Moon".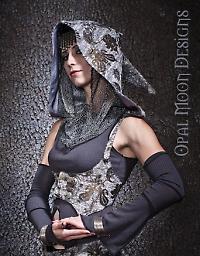 Inspired by mythology and the future, Kerrie describes her style as: "Tribal Sci-Fi". To further develop this concept she draws from her personal experiences in film, electronic music & most recently ~tribal fusion belly dance~. Her designs compliment dancers and performers of all types on or off the stage. Used more simply, pieces can be worn by anyone who desires fashion-forward street-wear for day or evening. Each garment and/or piece of jewelry is hand made by Kerrie with superb quality and craftsmanship in her studio in downtown Los Angeles, therefore no 2 are identical and each are truly one-of-a-kind.
To see some items on sale visit Opal moon designs Etsy store.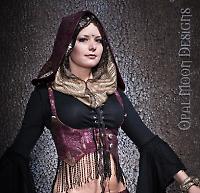 Above: Aphrodite tapestry vest with detachable hood design! Medieval-inspired, stylish and comfortable, and is perfect to wear with any tribal/fusion bellydance, gothic or steampunk look.
Fancy a more sci-fi urban look? The Dune sweater in shimmer mesh fabric is just stunning! Somehow pixie, sophisticated and futuristic and the same time!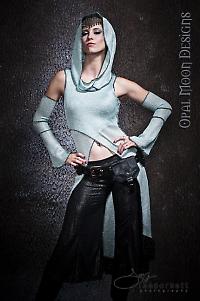 They also have some belts with pockets and accessories, that are not only useful but also add detail to the overall tribal look.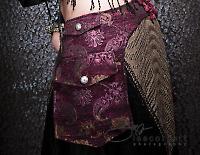 Above: pocket belt with purple tapestry fabric
Feel free to network with the company at Opal Moon Designs Facebook website
Below you can see a picture of MYSELF! :) wearing some lovely garments from Opal Moon Design who gently endorsed a few pieces for our promotion and shows so you can see it looks equally lovely in curvy girls like me! :)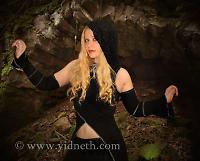 Priscilla Hernandez singer-songwriter wearing Opal Moon Design

Submitted on 2010/Nov/29