Imp & Pixie: lovely and warm fae and pixie coats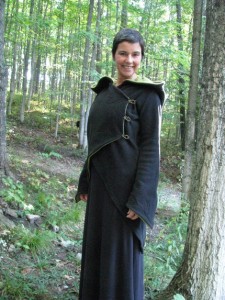 Above: one of my favourite Imp and Pixie coat with asymetrical front Weather is getting colder and you may be looking for a pretty coat to feel warmer and comfortable. Imp and Pixie features a little but lovely collection of coats inspired in the forest magical creatures. They're very wearable and would do also with any jeans for your urban daily life.
I always say... why people does dress always in such standard way and pay a lot of money for boring design that is no risky or special at all? That is when I come to find all these lovely al small manufacturers that come out with a comfortably but still eye catchy coat (suitable both for man and woman), not only to dress yourself as a pixie but also be comfortable when doing it if it's an outdoors event. I always think that in fantasy fairs most girls cover themselves only with ivy, glitter and fairy wings but forget about the risk to get a pneumonia LOL. If you cover yourself of course do it with something fitting and also useful for your daily "fae" wear.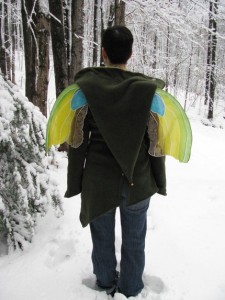 Above: fairy wings can be taken out of the jacket... Isn't that JUST ABSOLUTELY cool?
They´re made to order (in different color and lining) taking an average of a couple of weeks, though I read from the manufacturer soon they'll have ready to buy articles. All quilting design is freestyle and will vary for each piece making each jacket unique. As winter is just around the bend you'd do better having a look it Imp & Pixie. Have a look to our previous articles about urban faerie wear and shoes like pixie pixie, senjo clothing and others. They match just so perfectly.
Submitted on 2009/Oct/14