Ideas for a SNOW QUEEN or a WINTER fairy dress this Yule season!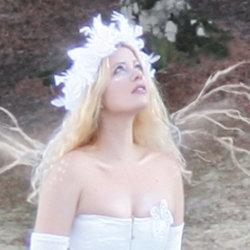 Above: me with white feather wreath
I've always have a fascination for winter and the eerie pure beauty of snow. Though the Ice Queen portrayed in Andersen Fairytale shows a frost-hearted bitter villain she also exudes a mighty imagery. This article is to give you some ideas for dressing like a creature from winter and though white is the reference is not something mandatory either, Winter Fairies can be portrayed in so many ways, from the japanese Snow-woman "Yuki-Onna" (black hair, pale skin and kimono). So here we go with some "frosty" hints!
If you just want to go for a "draw your jaw in awe" option this is a custom-made example of ice-maiden tiara crafter Susan Tooker from Spinning Castle. Of course you can write to her and ask her for a similar one, and she also can make you a matching icy wand to be really a Queen of Ice. Of course this option is not so affordable but It worths every penny... just look!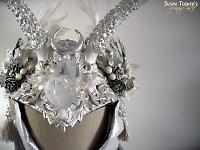 This also remind me that Xmas season is perfect for purchasing snowflakes and ice ornaments to make crafts and now that it's over you can buy lots of materials at good discounted price. I purchased some inexpensive ones and I rendered this pair of pendants and matching ice necklace. :)
This is another already made similar Ice Tiara by Whimsy Everlasting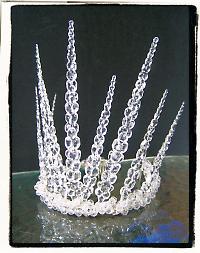 Another option as crown is this lovely "eastern european" looking and amazing headpiece Made by Deborah Harper from Mimsy Crowns. Just amazing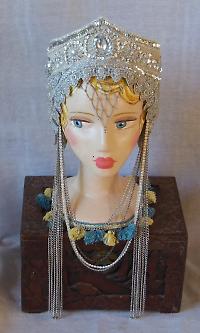 Below some examples of lovely crowns by Freckles Fairy Chest, that actually feature several headpieces with wintery imagery and white hues.
If you happen to be good with crafts, amazing blog Klaire De Lys offer two tutorials to make your own ice mask and crown. Don't miss it, she has shared videos with step by step tutorials using hot glue and really unexpensive materials. A must check, I tried the mask myself and I'll do the crown as soon as I find suitable Twigs to try it.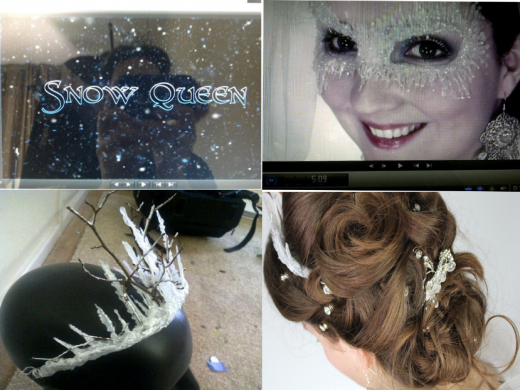 and even share a make up tutorial to go along with the DIY tutorials
You can also use feathers to add a touch a wispy looking collar. This is one I've made myself and I sell them in my own crafts website.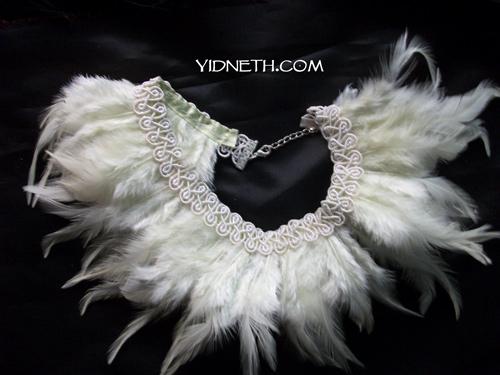 Handmade winter Queen feather choker
This wings were a commission and manufactured by Allyson Barlow. They're perfect for Winter fairies and so comfortable to wear. This is a pic of me wearing them in a special of "winter magical beings" local performance in Spain. Pics in detail of this lovely wings coming soon and you can contact the crafter Allyson for ordering a custom pair in icy/winter or any other custom color.

In Dark Angel one of my favorite stores they have a pretty white tulle skirt and also specifically a "snow queen robe" a coat in white-ivory velvet with a hood, looking superb for this kind of wintery garments.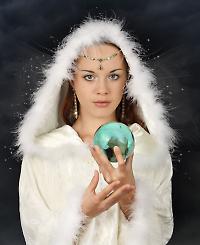 Above: Snow Queen Robe by The Dark Angel
They also have some lovely white corsets and tulle skirts available. I have this set myself and I can tell you it looks superb!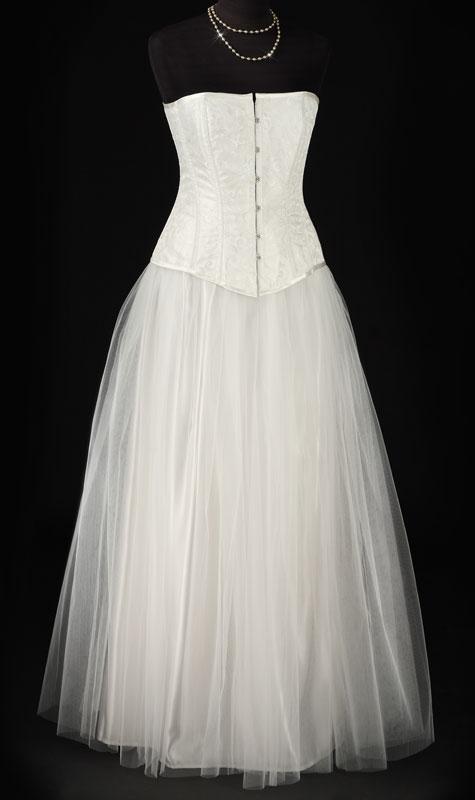 One good idea is to add something furry. I made myself this furry vest I use often, I think it looks great on tribal-looking, viking, ancient but also as a perfect "winter"-related style. My only warning is please USE FAUX FUR! they look realistic enough! (not to say less cruel)
I'm going also to highlight this lovely examples from Romantic Threads (a store that by the way have the most stunning dresses and gowns overall in all kind of styles from LOTR to Marie Antoinette). I wish I could grab them, the faux fur cape is lovely as it's also the medieval white gowns, both look very wintery.
A mask could be a lovely suggestion to finish details, I have one wintery one I love. coming from Masks by Morgan. But Morgan also make some leather masks in color and fashion like "snowflake" headpieces like this one, very icy and perfect for portraying a more mighty Snow Queen.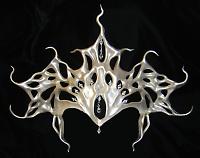 If you want to opt for a mask I hightlight this goblinesque white horned mask (I'm fan of Labyrinth and it reminded me of the movie) by Mystic realms masks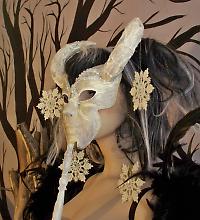 For a more dryad-like and massive looking, I recommend to have a look to Posh fairy tale Couture absolutely massive headpieces, some of them are tribal, other maybe more carnival-looking but they are open for comission a piece of your liking and this is an example of an icy one Some of their examples would look amazing on bellydancers.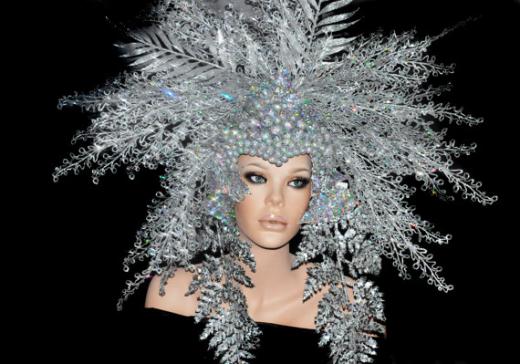 Ideas for make up. Below you can see a pic of myself messing with a very pale foundation. I am very pale skinned but I enhanced my paleness with a white concealer and very pale foundation. I also painted my eyebrows in grey and added a white wig, this one was really a cheap one I found in ebay where there are plenty of chinese unexpensive white wigs that might do for the shot, but they tend to be too glossy and artificial looking so intending to make a further research on the matter. Not in this picture but I would add also some white clear beads with some fake eyelashes glue and it would be also a nice touch to add a spark of white in the tips of your eyelashes.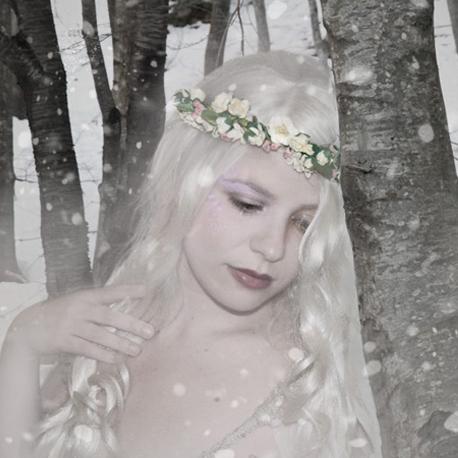 Above: me messing with a winter makeup test/ white wig. I used white concealer and powder to make my skin even paler and handmade the wreath attaching white paper flowers with wire into a garland. My eyebrows are naturally light-yellow but I painted over them with "grey" and powder to make it matching to the color of the wig. Some other ideas that I like for "winter make up" is attaching clear white swarowski-like crystals (you can find them as nail-ornaments) to your skin with eye-lashes glue. If you happen to have long nails (lucky you! white or transparent with beads would be a night touch. You can also add some "fake snow" to make them look "frosty"
Don't forget about your shoes... anything NOT-white will spoil the feeling.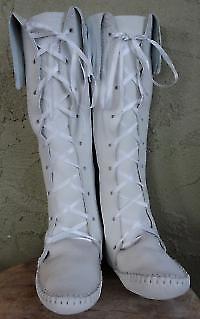 This is a pair of white suede Elf Boots from our previously covered store Eathgarden
And if you fancy "more modern" looks, you can opt for a cape coat in Lolita style, there are plenty of white-furry ones that with the right stockings and wig would do for a more edgy wintery look!
Submitted on 2012/Jan/25