Susan Tooker´s Spinning castle: awesome fairy headpieces, wands, and much more!

Susan Tooker's Spinning Castle is the most delightful store full of wonder, of color, of magic and of treasure.
Be wondered by the lovely things this crafter creates via cross-disciplinary arts such as illustration, photography, costume design, jewelry design and puppet fabrication. Susan Tooker is a visual artist who travels between the worlds in response to the creative energy of Faerie and the embracement of the Shadowlands. She creates elaborate fantasy costumes and performs in character at a number of fantasy events including Faerieworlds in Eugene, Oregon. Her designs frequently incorporate contrasting materials such as sequins, silks and brocades intermingled with natural elements like feathers, stones and bones. Each design is meticulously crafted with a sense of honoring the animal spirits that grace Susan's costumes and accessories.Faerie wands and headpieces, ritual objects... every peace custom made and crafted and with the depth of a story, myth or legend behind them.
You can also read her blog to see detailed info and background behind each item at :http://www.myspace.com/spinningcastle
Below you can see some examples of the magic things this artist creates:

Above: winter solstice Scepter wand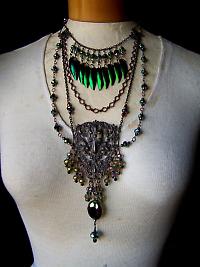 THE HEART OF ISDES Green Jewel Beetle Wing Elytra Necklace
Above: Harvest moon Headpiece and Skull goddess wand and pendant. Simply stunning. By the way model in the picture is Sarah Froud (the wife of Toby Froud who acted in the movie "into the Labyrinth")
Please visit Susan Tooker's other Etsy shop for her Neo-Victorian, Goth, Steampunk and Punk Cabaret items.
http://www.etsy.com/shop/OliviasOubliette

Also feel free to network and check out the Susan Tooker fan page on Facebook where you can see her latest Spinning Castle creations in process, as well as, photos of Susan in full Dark Faerie Queen mode! or follow on Twitter
Submitted on 2010/Nov/19