YIDNETH fairy and fantasy chokers and necklaces with original paintings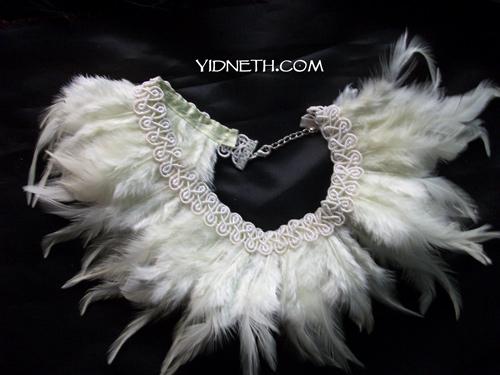 Above: Winter Queen choker in white, similar models in green or black can also be made.
Though I keep this entire blog as admin (yes, today it's me! LOL). I have never listed an articles about my own crafts, specially cos It was created for promoting things I would like to buy from others for performing on stage (I'm a singer-songwriter Priscilla Hernandez (guess what? fantasy music) and such. Still, since a couple of years ago I'm making some fantasy jewelry and necklaces, some wearing prints and reproductions of my own artworks as fantasy illustrator, other even with ORIGINAL! and thus one of a kind paintings like this one (and of course there are smaller reproductions available)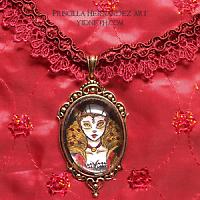 Above: BIG cameo with ORIGINAL PAINTING (not a reproduction) ONE OF A KIND
You can also contact me to comission a custom cameo necklace with a portrait of YOU or your beloved one as a fairy through my website yidneth.com or http://priscillaherandez.com

And also there are some more affordable chokers, feather earrings, little bags, gloves and things I do quite randomly with pretty materials I find. I make FAIRY/FANTASY music so all my pieces are inspired by fantasy themes and I conceive them as something I would wear on a fantasy event or concert. Thus I never keep a big stock of units of each and most are unique, but definitely all handcrafted and I can repeat a similar thing upon request if I have similar materials. So here we go with some examples of what you may find in my own store. Priscilla Hernandez store (where by the way you can also find my music and art).
Below: Pixie green feather earrings and choker set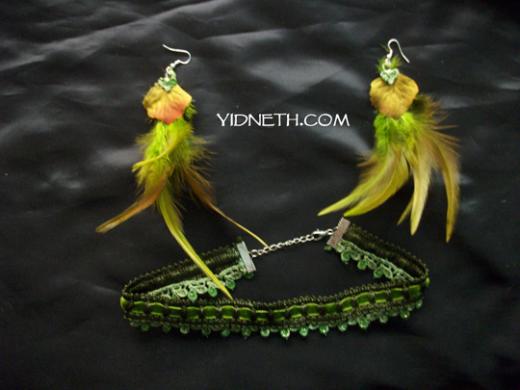 Submitted on 2011/Sep/26