Deidre dreams: Crowning fairies with all colors of the rainbow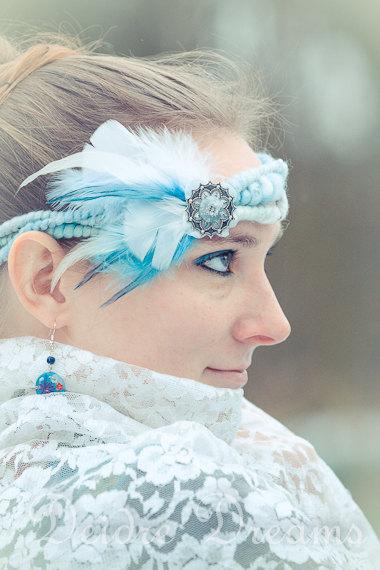 Above: frost-ice queen headpiece in white and blue. I love the wool she used<· by Deirdre Dreams
Deidre Dreams is the lovely crafts store run by designer Deidre Gubbels based in the Netherlands. She lives in a small town in the South of the Netherlands in between rolling hills and meadows, where nature can provide inspiration for her colourful and vibrant fairy collection. Raised by a hippie and liberal family, she learnt from her grandmother to crochet which she uses in combination with her own sculpted pieces in polymer clay to embellish and create unique headpieces and accessories.
So the store offers a collection of hippie, pixie, goth, fairy, boho and mermaid girls will find for sure some treats in this shop, full of colourful, crazy, handmade jewelry and accessories, made with clay, beads, rhinestones, yarn, feathers and obviously nourishing from a strong imagination. Even tribal, flappers and burlesque dancers will find their treasures here. It also has an echo-friendly look and spirit into it.
It is obvious she loves colour, as many of the pieces are multi-coloured and quite striking and I'd say some even daring in unusual colour combinations :). She also have items in blacks and whites for people that want something less cheery. Still even if I am more prone to more sober tones, I found some of the colorful items just absolutely cute and "yummy delicious" like this necklace :, it makes me think in "Goblin's forbidden fruit" :)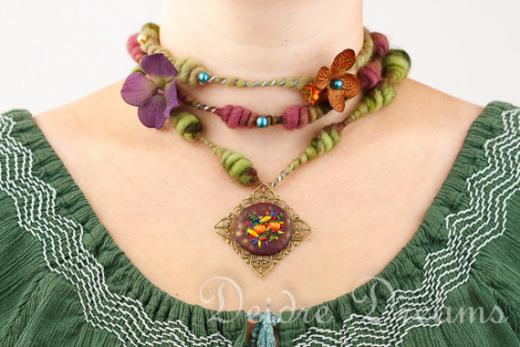 She showcases too a notorious influence from fantasy movies she loved (from Disney to Burton) but also nourishes from deeper and mythical and pagan elements :)
Below one of my favorite headpieces, suitable for alternative brides too. So romantic in wintery whites. :) hand crocheted around bendy wire,so the wreath making it adjustable and sturdy.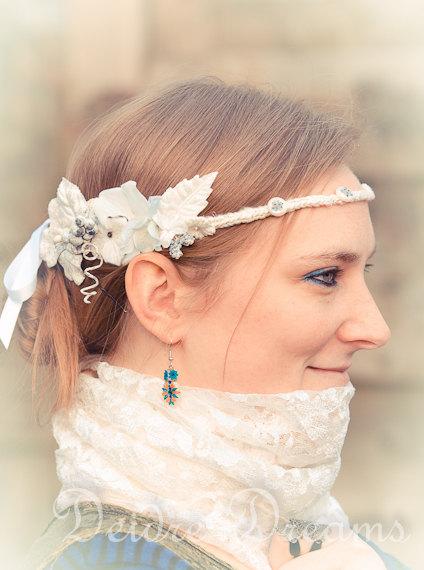 Deidre´s offers not only headpieces but also necklaces, pendants, and earrings that feature her own sculpting work using polymer clay.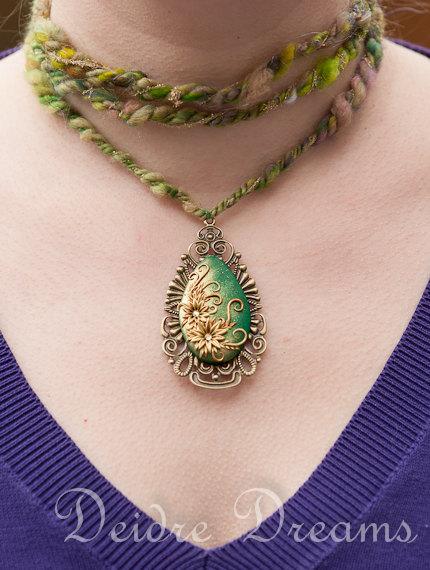 Above: "Golden Light of Summer Sunset" green fairy necklace using hand dyed and handpun yarn wrapped with gold thread and a lovely pendant in green and golden hues.
Also she is very friendly and communicative and welcome contact for any custom-made piece order or repeating a similar piece if the one you already like is sold :)
You can also network with Deirdre Dreams at:
https://pinterest.com/deidredreams/
http://deidredreams.deviantart.com/
https://twitter.com/DeidreDreams
Submitted on 2013/Jun/14