Crude Things: Gothic Lolita, alternative, Bellydance and daring clothing!!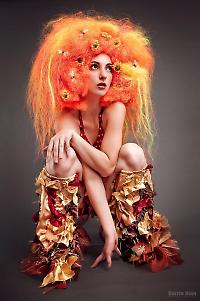 Above. Fall woodland Fairy by Crude Things
Crude thing is a quite a rarity... featuring equally rare items... From Gothic Lolita to Bellydance, from fairy tale and vintage to pop and futuristic elements... all mixed together to render some oddities The designer started working as hair stylist and worked in NY then to move to Portland to make very unique art wigs that sell all around the world: paintings, dolls, puppets that are life sized & used for performance art, marionettes, clothes, and sculptures with works published in a wealth of magazines and media press and exhibited in several countries. It really has a lovely collection of fantasy wigs of a quality far beyond the usual cosplay wigs and styled in a suitable way for gothic souls.
You can find the store selling on ETSY, and also at their official site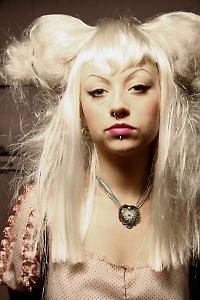 ç
This gothic vanilla-white wig is so cute... and fairytale! sigh!
You can also find a collection of accessories like sleeves, cuffs, scarfs. Some looks like rags and are the result of a special treatments, looking torn but in a very distinct way. It has also some Bellydance and tribal wear.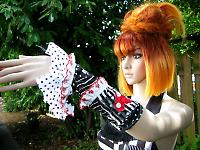 Above: cuffs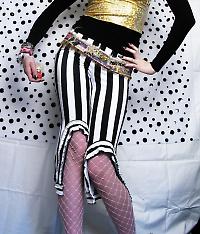 Above: striped bloomers, cute for steam punk, pirate or circus style! and very sexy!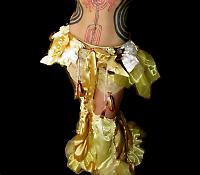 Above: Golden Apocalypse tribal Bellydance outfit
Submitted on 2010/Nov/05