Dark Fusion Boutique: dressing a tribal Goddess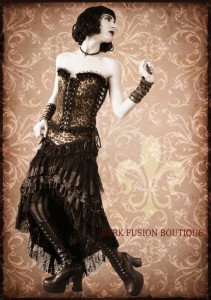 Dark Fusion Boutique is a shop that features clothing and accessories designed by Lucretia*Renee of Serpentine- Theatrical Fire Fusion Bellydance located in Portland, Oregon.Her design style was initially inspired by her many years of performing in theatrical firedance and bellydance productions. Really striking and eye-catch, mosly in black, red, and cream colour, and several items matching each other so you can pick several combinations that will work perfectly for your bellydance or stage outfit. Her clothing design style has become an elegant yet edgy fusion of fetish, tribal bellydance, goth, burlesque, circus, vaudeville, and steampunk. What makes her clothing unique is her form-fitting and sexy placement of seams, layered fabrics and textures, and her feminine twist on the fetish aesthetic inspired by the art of dance and the Goddess. It has also a collection of lovely gloves and other accessories. You can visit their official site pointed above or go directly to Dark Fusion Boutique etsy store to look for in stock items.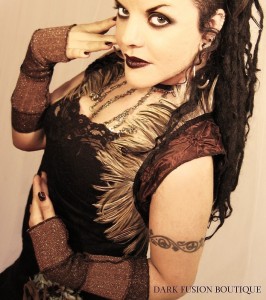 Above: lovely vest with feathers
I particularly loved these skirts, love the combination of different patterns and fabrics in a rag way... I may get one of this eventually...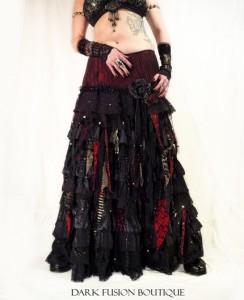 or this other, even more morrigan raven's mood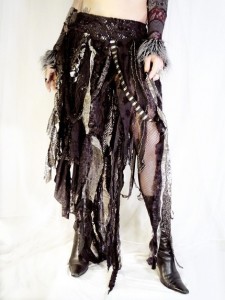 I wish I had the body for the tops!! ;-) but if you do, they look awesome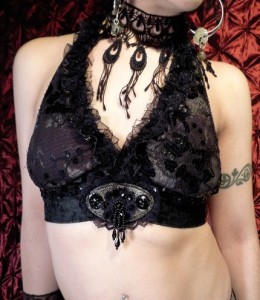 As we always do link articles if you like this style of clothing you might also want to refresh about our previous article about Plume designs
Submitted on 2010/Mar/10