Seidiclothing: Unique handmade clothes for elves and trolls
Seidi Clothing is an european store that specializes in the tribal and exotic handmade pixie wear. and accessories. All items are made using the crafter´s custom design or pattern. Some items are unisex, other exclusively designed for him or her using natural fabrics from Asia and Africa and rendering a collection with such unique fusion on one side with a remarkable exotic and even ethnic oriental flavor also reminiscent of the trolls and elves of northern Europe. Seidi favors a ecological production preferring to work whit fabric and clothes that they remade and reinforce from overstock that would be destroyed otherwise.
The collection has a wide variety of items in different brown and green hues so you can pick and combine different items and accessories to render a perfect match and combined full outfit if in those colors. They also have their own embroidery machine so you can see some intricate patterns and designs in many of the pieces.
Above: Pixie top, one of my favourite items because it reminds me to my favorite movie "The Dark Crystal" in fact many of the colors and designs remind me to the "Gelflings of the movie".
The main store at Etsy where you can see some "ready to go" items is Seidi Clothing. I'd say the items is very "earthy" both in inspiration and in tone.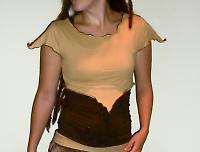 Above: another pixie top that you can wear over your t-shirt or tank top to make it look edgy and tribal.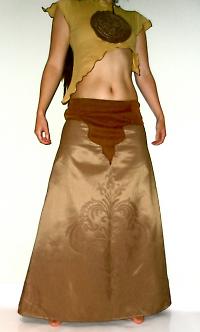 Above: Pixie wrap skirt with embroidery, just gorgeous.
They also have many different arm warmers with embroidered patterns. One of my favorite below: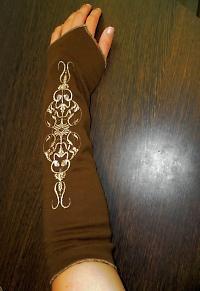 In Seidi Dread Etsy store you'll find dreadlock tams and headbands in all sort of colorful fabrics and also dread beads and jewelry to put ornaments to your dreadlocks or celtic braids, like the following examples.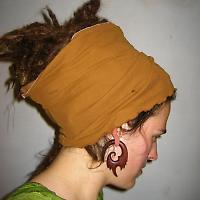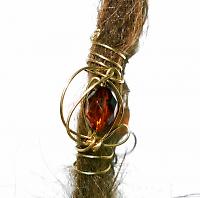 They also list this tube-like jewelry accessories for the dreads or your hair... Great for an elf or goddess hairdo! :)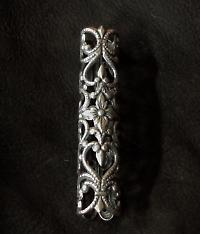 They also make some lovely pieces of jewelry like this earrings, great for this kind of clothes, pixies, fairies, dryads and all sorts of forest dwellers.

You can network and "like" seidi clothing at their official facebook page
Submitted on 2011/Feb/25