Mojo leather: fine handmade leather renaissance accessories
Mojo Leather is a store that feature fine leather work to enhance your historical garment. It was founded in 2003 by crafter Nathaniel Gandy. He is committed to custom leather crafting as both an art form and a skilled trade. The workshop is located in South Carolina, and Mojo Leather is proud to manufacture products that are made in the U.S.A. They sell NO imported or pre-assembled products. Mojo's merchandise line includes belts, pouches, bracers, armor, sporrans and more! In fact they have a 100% money back return guarantee if you don't find what you buy up to your expectations but also guarantee by the accurate and fine job done that you will do, and if not read the comments from other happy customers.
Aside from the etsy store they also list auctions on Mojo Leather shop at ebay
Scottish sporrans and kilt belts, bracers, pouches, bags, weapon accesories and more... All with the finest quality and handmade in their workshop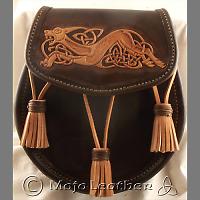 Tooled Tassel Sporran. This exquisite pouch is hand tooled with an intricate celtic dog and knot design (one of my favorites). Maybe because I love celtic dogs and I also love the choice of colors of this one, it really highlights the pattern.
Oh look at the "elven" package.... I want this for my performing garments... snif!! love the shape and fae leave shape. Maybe it is cos I love greens and browns matching with the color of the forest.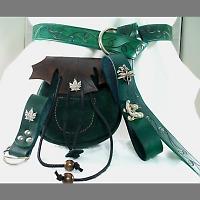 The kit includes also an elven mug strap... all with the elegance of the leaves and green color. Snif... I do love it!
As we previously covered some articles about vikings here´s an example of bag fitting for those garments.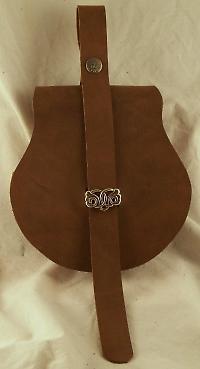 Viking norse leather bag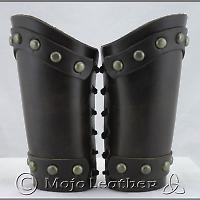 Leather bracers

They also run an etsy store, in case you want to have a look to their listings there, though the gallery and catalog in the official site is rather much more succulent and complete.
Submitted on 2010/Sep/28