Evil Ogis Garb: historical and fantasy accessories, jewellry and garments for a fairytale princess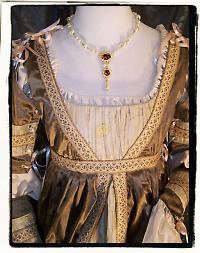 Evil Ogi´s Garb is a lovely little store specialized in fantasy and historical garments from Renaissance, Medieval, Victorian, and Rococo... with alot of Gothic and Fantasy touches!) They make Tudor Renaissance Necklaces, Earrings, Girdles, and Dresses perfect for Renaissance fairs and fairy events. Become the princess of a fairytale, and if you need a crown for that you even can choose or order a custom one. This is a collection of gowns and jewels for fairytale princesses and some of the garments indeed take name from well known stories.They also have a note that if you like any item in different colour or size they welcome the contact to see what they can do. And the same for accessories as they can make it custom colour to fit the garment you already have.
You can "like" and interact with them also in facebook when they make regular give aways and contests.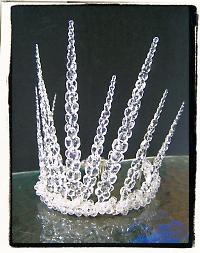 Above: Ice crown that we had already mentioned in our Snow Queen special article.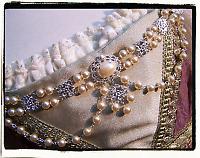 Example of collar for bodice, a complement that will make your historical garment look amazing! I love this clear with pearls one.
They have a evil ogi´s garb store in ebay where they have a lot of garments and accessories listed as well as their store policy. It is worth a visit to see some of the examples of dresses and jewellry of their store/portfolio. I was absolutely in love with the "sapsorrow" dress, an italian renaissance cut gown. They also have other gowns in this style and even can make a custom coloured one. (sigh, in love with it). They feature a lot of really lovely white-cream-ivory versions that would be delightful for alternative bridal wear as well.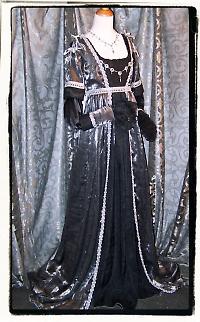 They also have an etsy store under the name of "recycledrockstah" and they have listed some of the custom orders with examples as well as ready to go items. Remember that if you make a custom order you must allow the seller the time specified (around 3 weeks for garments) to completion.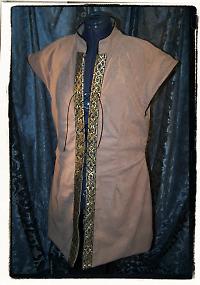 But also ready to provide some attires for the prince... I love the doublets they have listed. I'd love to get one for my man (I mean "prince"!) in black.
It also features a nice collection of victorian lace cuffs and chokers that will delight victorian, gothic or steampunk lovers. To be brief a bit of everything for all fairytale, renaissance and victorian lovers and definitely a lovely collection of items to check out.
Submitted on 2012/Apr/04