Everything about elizabethan standing ruffs... how to make them, how to find them!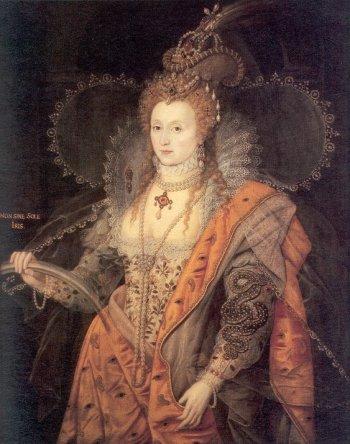 You can read more about it in this wikipedia entry about the ruff so you can read the basic definition and get to know what we´re talking about.
One really interesting point to start with is to visit the website Elizabethan costume, because it will offer you most of the backdrop and articles you need to make sure you get to known in an accurate way how an elizabethan dress is done and that include of course the ruffs linking to several articles. In this article you can see old portraits so you can see the evolution of the ruff from 1530 to 1590 from modest to big standing structures rebatos or suportasses. The website includes also several tutorials and tips to contruct your own elizabethan ruff
They even have a calculator for the measurements needed
In The Renaissance tailor you will find a tutorial and also the story of this collars, with some tips and trips about how to make them in different styles.
If you're crafty at sewing you better try to look for the pattern
Margo anderson 003 MA003
called Elizabethan accessories
. In the website you can find also othe
r elizabethan patterns byt he same company so you can see the reference and an overall look to its contents (by the way this particular pattern includes other elizabethan accessories too like Tall Hat, Soft Cap, Attifet, Caul, Biggin cap, French Hood, Round hat. Neck and wrist ruffs, Supportasse (support for standing ruff), Round Pouch, Sweet Bag, Needlebook (with optional wallet insert).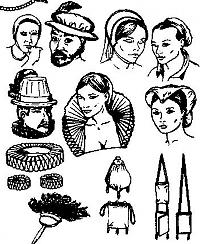 In this website you can learn how to starch a ruff so it holds its shape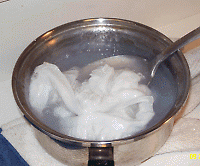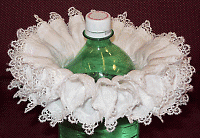 In farthingales you can see how to build the structure of a wired ruff like the one below. This one is really great tutorial cos it shows you step by step and though the result looks modest, it can be then customisable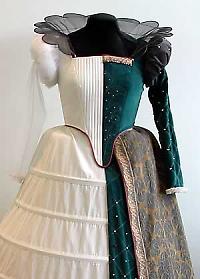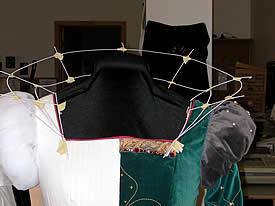 This another tutorial where you can see tips and trips in the making of a standing ruff made by Yosa (that we previously covered in her own Silks and Velvets article using an alternative method with velcro for making the supporting structure. Very interesting, and very gorgeous result and pictures with golden lace.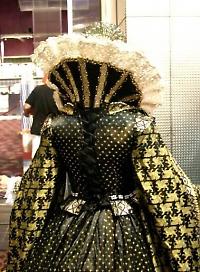 Lazy to try it yourself? It's really a challenge even for the skilled seamstress but you can purchase some already made standing ruff in the etsy store "Costume Renaissance". One gorgeous example of their items below: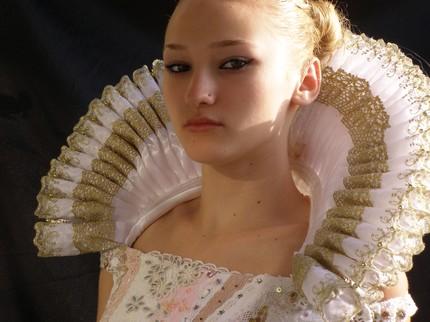 Other options is to use your imagination to make other sorts of ruffs that are not elizabethan for your fantasy garments... This is my first try using a feather cocke tream and wire and same fake branches to make a "feather standing ruff" for a dryad dress
In this other website Very Seamstress you can find some of the finest elizabethan whisks and supportasses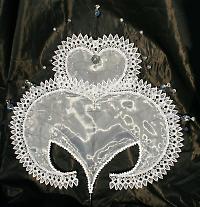 lizabethan whisks are frequently seen in portraits of Queen Elizabeth I and consist of a wired frame covered with sheer fabric. The whisk frame typically appears to surround her shoulders and sometimes her head in an almost-haloed effect.
Very seamstress sells also suportasses like this one: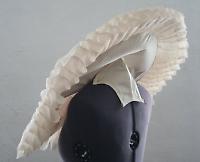 In ebay you can find a little store called liliasluxurycostumes that sell already made ruffs and also wrist ruffs and even ruffs for your pets (cats and dogs) they look so royal!! LOL


Above: cat with elizabethan ruff from liliasluxurycostumes. Somehow very Gibli!
Another inexpensive simple ruff at calicoannie.net for just 35$
You can see also some other example of feather ruffs in etsy like this one from antiseptic fashion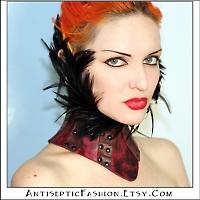 Now matter how it's done or what materials are used, the standing ruff always will add an aristocratic air and distinction to your garment. And they always look so... so... WICKED!
Submitted on 2010/Sep/29