Piel de lobo: Historical reproductions belts, armors, pouches and more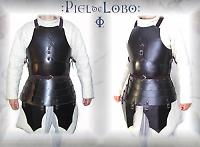 Piel de Lobo (wolf skin) Wonderful leather bracers, pouches, and belts divided in two main categories: traditional and historical recreation. Based in Cordoba, spain, Antonio Exposito is the crafter in charge of this store that feature handmade traditional products with limited stock, high quality and historical accuracy. Prices are more than fair. You can visit the gallery of products that actually show the price in Euros, and there's also an e-mail contact in case you want to order any of the models shown so you can contact the crafter directly and get a quote about the shipping if you're not based in Spain.
Below you can see a sample of some of the belts available, I'm in love with the chesnut colored one...! hope to grab it soon!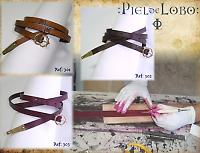 Submitted on 2011/Dec/11