Art by Aelia: gorgeous Dragon necklace drapers and other animal totems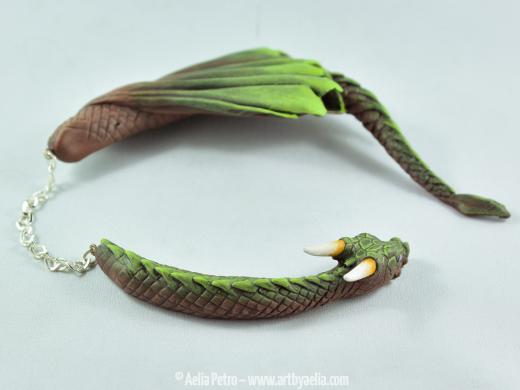 Aelia Petro from Canada is the young crafter and designer behind ART OF AELIA . She is a multidisciplinary artist, illustrating, painting, working in graphic design but also creating detailed custom jewellery, which is based in marine mammals (she worked with whales and was fascinated by them) and other animals that are usually very difficult to find in jewellery... but of course and as featured in this blog she also makes fantasy creatures... DRAGONS!!
The necklaces are made in a variety of materials including pewter, polymer clay and resin. Each piece is unique and entirely handmade so there are not two that are the same.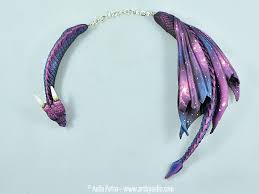 Above: Dragon draper necklace hand-painted individually in purple/galaxy colours, though you can order them in custom colours or with metal finish (I particularly loved it it silver tones and green/earthy ones). This gently rest on your neck and absolutely awesome. The silver one would be considered in the style of Game of Thrones Daenerys style, but I find these much more delicate in each its own unique way. Still an option for cosplayers of that character that don't want to use the generic replicas. And not only necklaces and drapers but also bracers and other accessories.
But what if you have a totem animal? Like she has or is able to commission it. I love some of the harness. I´d love to see a rat for myself. These are so cute and unique :) Love it :). It has no metal finding or bail, they just hung so realistically, though if you think it´s not safe and prefer to add a bail you can ask for it.
She also makes resin cabochons with silhouettes, some of them featuring marine life like sharks and whales, but when you see them it's like looking into a piece of the sea underwater. :)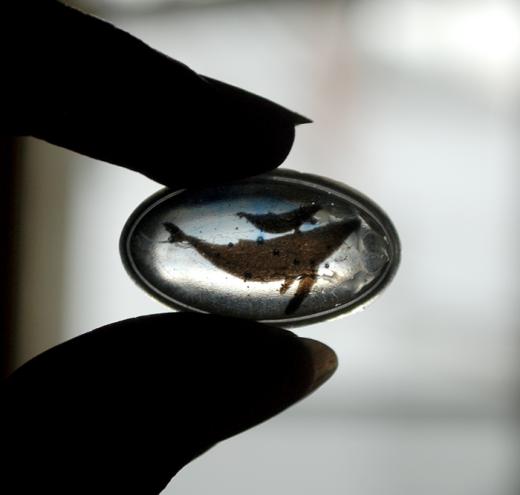 You can network with Art by Aelia at the following Social Networks, so you can follow their up-to-date projects, contests, promotions and past and work in progress works. Also stay tuned because sometimes she run GIVE AWAYS (though I didn't win snif! that is how I found out about her art) So make sure to bookmark the followings sites
Facebook: www.facebook.com/ArtByAelia
Tumblr: artbyaelia.tumblr.com
Twitter: twitter.com/ArtByAelia
Instagram: instagram.com/art_by_aelia
Pinterest: www.pinterest.com/artbyaelia/art-by-aelia/
If you already have an item made by Art by Atelia you can always use the hashtag
Submitted on 2016/May/25