Alchemy Gothic and Alchemy Empire: Gothic and Steampunk Accessories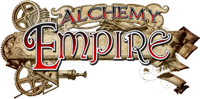 With humble beginnings in the 1970's punk movement Alchemy was born in 1977. Started in Leicester, England by two self-taught artist/model maker/designers Geoff Kayson and Trevor Phillipson. In 2010 Alchemy's esoteric and contemporary jewellery is world-renowned and is the undisputed leader in Gothic lifestyle accessories. The range of Alchemy products is extensive and includes Tankards, Flasks, Gothic Jewelry , Giftware and many other pewter products from Gothic through tribal, fairy and steampunk. And on top of it all with a friendly and efficient customer service.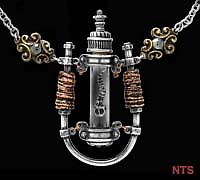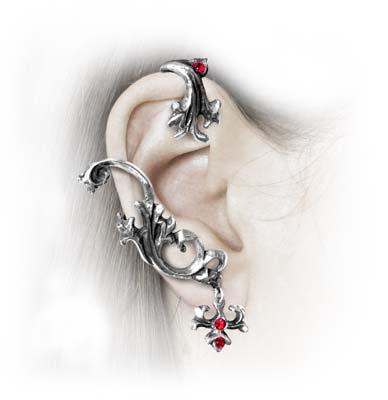 Above: example of ear cuff made by Alchemy Gothic suitable also for fairy wear
They also have all kind of pendants from gothic with blood red droplets to fairy or even viking and with all sorts and motifs including mythical creatures like the following and really cute angel and demon pendant.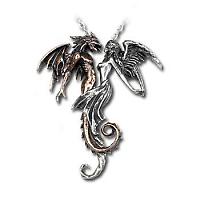 Alchemy Gothic has come a long way since their lowly beginnings, growing into the innovative and creative force that has gained world wide recognition. Alchemy's range of Steampunk collection... a collection of delightful retrofuturistic items that will complete your Steampunk costume with pieces of extraordinary detail.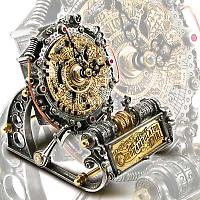 Above: time machin chronambulator Dial:.The beating heart of the pan-dimensional adventurer's, retro hi-tech time machine; the ornate clock face, (powered by quartz technology), is fronted by a perpetual roller-dial calendar.
They also have a variety of gothic props like candle holders and chalices because for an event (or simply your room if you are into these tastes ;-)) the right atmostphere is the key to success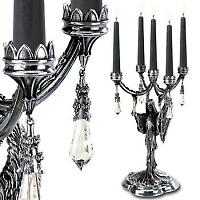 You can also network and connect with them liking her Alchemy gothic Facebook Page:
Other interesting links related with this seller:

http://www.oldcuriosityshop.net/ A catalogue of Alchemy retailers

http://www.alchemygroup.com/ Alchemy trade site. (all Trade enquiries welcome)
Submitted on 2010/Nov/11