Inside Out... easy cosplay for this Halloween!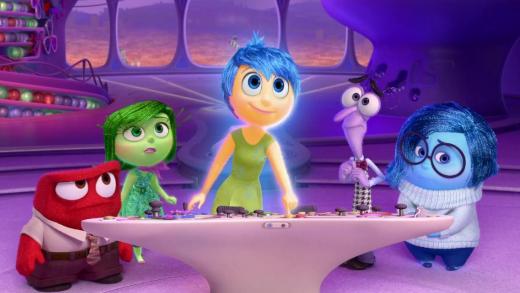 Well I finally watched "Inside Out" from Pixar. It was not exactly what I expected but it was overall a sweet movie to watch. Maybe a little bit naive overall but very creative. And the distinct five emotions portrayed (Sad, Joy, Disgust, Fear and Anger). Inexpensive face paint and make up is available everywhere at this time of the year, and you'll need pretty basic colours for the base and some of your own regular make up for the lips, eyeshadow and blush. Some of the props needed like glasses, ties and bows can be even made easily with felt if you want an exact match of the thing. But even if the cosplay is not perfect, is the ATTITUDE and basic colour that will do the overall effect.
There are some ready to go inside out costumes in ebay, but I recommend you have a look to your own closet first.
So if you opt for something quite easy and recognizable this year, it makes an interesting choice, especially if you have a group of friends ready to wear each one of the different emotions. Each one has a basic vibrant and bright colour associated with it so it is very easy to cosplay. Basically all you may need will be some inexpensive props and face paints... You will likely even will find the garments you need in your own wardrobe (or your grandparent´s LOL). Another good things in this COSPLAY you can go for the CHEAPEST SHINIEST chinese wigs you will find in ebay or local stores during Halloween, because there is something fake-looking in their hairs and hairdo and this is exactly what you need :)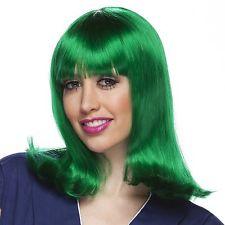 Above, one of the many wigs you will find in ebay, you will even find plenty already styled for the characters.
Here you have a make up tutorial by talented youtuber dope2111 (I recommend to subscribe to this channel, this lady is sooo talented)
Joy: Plain yellow dress and short blue wig that you will find in any cosplay wig store. Easy right :), just add some spark and a wide smile along with it!
Fear: Find some purple pants, a white button up and a plaid sweater vest over plus a red bow tie. Add some awkward and fearful attitude like biting your nails and move nervously, you're almost there.
Disgust : She´s so cool.. I absolutely love the eyelashes. You can use feather eyelashes or simply cut some strips of paper and cover then with green glitter and apply them into your eyes with eyelash glue. A purple shawl will add the final touch, and it might be maybe the cutest looking character of the movie.
Sadness :White turtleneck knit sweater and blue pants. You can find plenty of inexpensive blue wigs in your local stores or ebay. Light blue make up, an air of "this is not a great day" air in your face, add some toy-fake glasses and you're done.

Retro nerd round glasses... you can find inexpensive prop models without glasses in almost every party store and also in ebay
Anger: Anger wears formal with a white button up, a tie and tweed pants. It looks very much like the standard male office working clothes. A fake mustache and red makeup will complete your look.
Submitted on 2015/Oct/26