Kryolan: Theatre, fx, halloween and professional make up

Kryolan is a brand of professional, theatre and fx make up that I use for my performances. Among all make up brands I always recommend MAC (that we've previously mentioned) and Kryolan. As both have really high quality products, Kryolan is more focused to FX make up.
It has all you may need, from fake eyelashes (remember our previous article about eyelashes) to anti-shine powder, iridescent, shimmering and glow in the dark make up. Basically it has two different sets of colors, a collection based in water (Aquacolor), that blends the colour as nice as a watercolor palette. They're super for body and face painting, though if you're wearing it too long or in sweating conditions they have another brand of make up based in oil and absolutely indestructible unless you use a cleaning milk. Important thing (at least for me) is that so far I know they don't experiment with animals!! I have a very very sensitive skin and I feel super-comfortable with the aquacolor brand.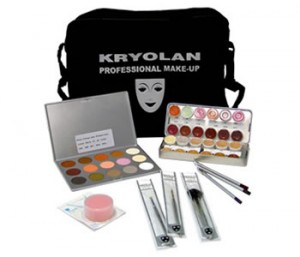 Also if you're intending into a further transformation (getting old, becoming a zombie) they work with wax, putty and latex too for special fx make up. And of course they have spirit-gum similar glues and removers. There's no limit regarding the color and materials provided to become whatever you want to be. If you want to see their entire catalog or find a local store close to your area you can visit Kryolan official site As we previously covered in our article about Vampire Fangs, if you're intending to be a vampire, zombie or monster this halloween, you may be in need of fake blood. I forgot to mention then that Kryolan works precisely with theatre fake blood up to 5000 ml bottles of pro fake blood (easily washable from your skin and clothes) and in two shades: light and gory dark.


To finish with this article, I leave you with this youtube video using kryolan make up, this time this guy is creating a mask (great for masquerade) only with the make up :) and some beads Enjoy!
Submitted on 2009/Oct/18