Twisted Whimsey: Skilled mother and daughter from Australia share their handmade treasures

Mother and daughter team Jo and Cassie live in South-East Queensland, Australia and have teamed creating Twisted Whimsey shop
featuring their one of a kind creations inspired in nature, fairy lore and their heart and spirit. The items are very original and range from hats to fairy wings and masks... oh and even customized fantasy shoes! All items are rather different and obviously comes from different moments of inspiration, I guess these two enjoy wearing what they create and there's something of exultant happiness in all their pieces.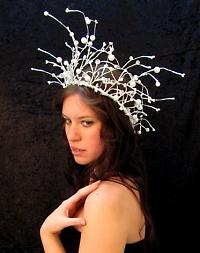 Above: Winter Headpiece
In their own words "The creations of 'Twisted Whimsey' may be inspired by anything from the title of a song to sunlight through a leaf and the curl of an ocean wave.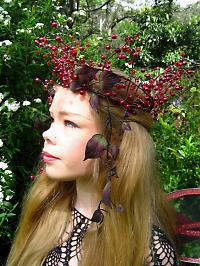 Reminiscent of the wild wood in summer when berries are brightening the hedgerows and the faeries are giddy with the abundance summer bestows.The twisted stems of brilliant red berries are subtly complemented by dark leaves brushed with the purple of coming fall.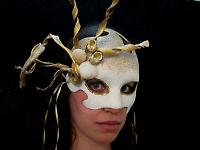 Above: Seadrift mask for mermaids and ocean dwellers.Wear a touch of the sea with this mask created from seadrift washed up on a beach. The base mask is tied with ribbons and finished with shells, seaweed and glitter in sand colors."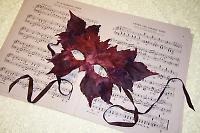 Above: fauni mask for dryads and Green Men with lovely leaves in the colors of the fall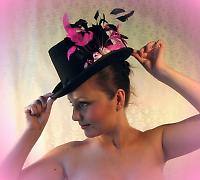 Above: love bird top hat. Romantic and great for Valentine´s. Very classy!
Submitted on 2011/Mar/11