Mimsy Crowns Deborah Harper: Amazing fairy princess headpieces


Above: Mermaid Headpiece by Mimsy Crowns.
Oh another enchanting magical discovery :)! :) I cannot find words to express how much I love these headpieces. I am a big fan of czech and russian vintage fantasy movies and they used to portray this kind of headpieces in many of them. I think that is mostly the reason I always remember Sadko (1953) and The Czech version of the Little Mermaid Malá morská víla (1976) among others. :) Below you can see stills from those two movies, curiously both portraying underwater princesses.
Above: Stills from Sadko (1953) and The Little Mermaid (1976)

Below Headpiece custom made by Deborah Harper from Mimsy Crowns :) It reminds me so much to those in such Eastern European fairytales. It would made also a lovely crown for a Snow queen. So sparkly and ethereal.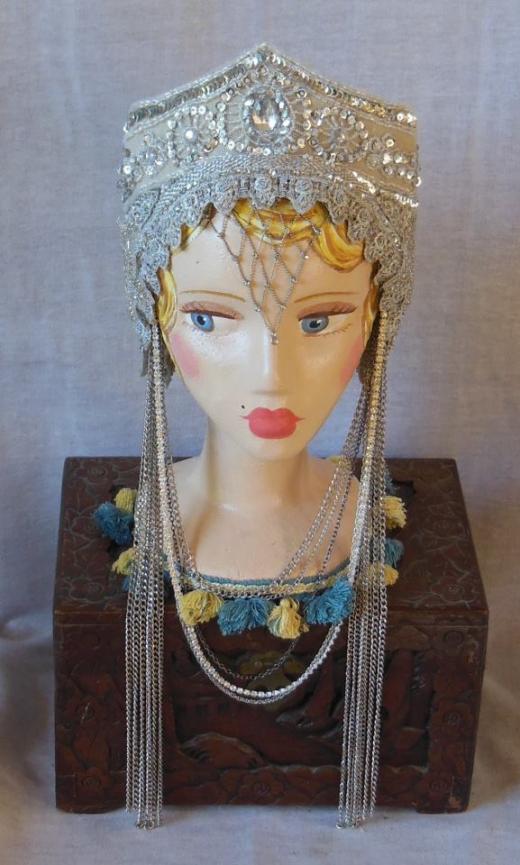 Mimsy Crowns is run by crafter Deborah Harper spent much of her childhood and early artistic development in the artisan village of Carmel, California. Inspired by the beauty and whimsical atmosphere of that area, she became a prolific painter and sculptor.
A move to Los Angeles prompted her to venture into original clothing design which resulted in her becoming a fashion designer for several of MGM Studio's top television shows. Deborah now brings her expertise in specialized fabrics and design to her hand crafted lamps, crowns and head pieces. And OH MY GOD! what headpieces, royal, massive, vibrant and absolutely unique. Of course we are talking about one of a kind items and though she lists "custom-made" You can have a look also the her etsy store where she lists some custom-orders that she can replicate in "similar" not exact fashion and already to go articles if you don´t have the patient to wait ;-)
Another of my favorites as I'm having a weakness for green lately. This one is the Forest Nymph crown, in all hues of greens. In fact she has crowns fitting for almost every season and element :) They inmediatly make you think of that. Perfect for Dryads :)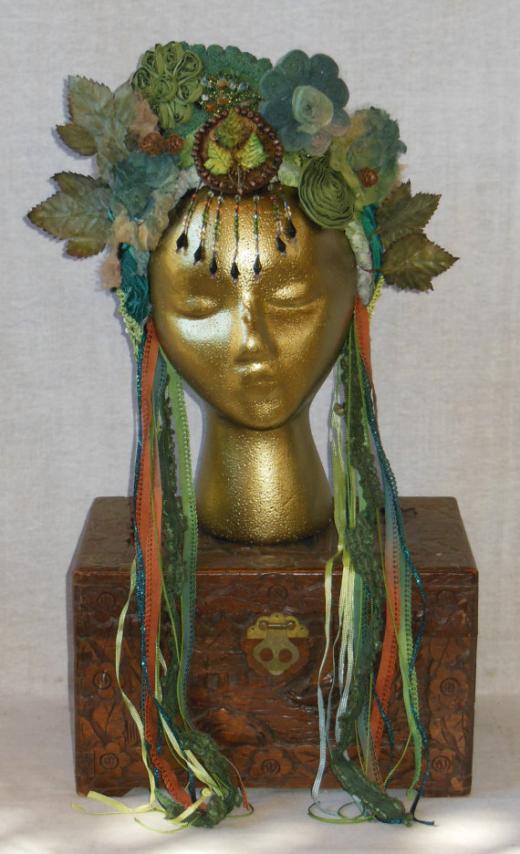 Some of them are fitting for fairytale princesses, others shows other inspirations like Art Noveau and even Nepal and Chinese headpieces. They make a lovely option for tribal bellydancers and are even reasonably priced considering the fact that a lot of sewing, beads and all kind of materials, fabrics and ribbons are meticulously mingled to render unique pieces.
I feel now very inspired to try to make something for my own, and I've bookmarked this delightful store for inspiration :) though I cannot hope to render such quality and lovely blend and I hope to be able to catch one of her crowns in the near future :)
I too want to feel like a Eastern fairytale princess :)
Submitted on 2013/Mar/29