Bubble and frown: Amazing (yes AMAZINGGGG!!) fantasy top hats and veils
Just look at this top hat... Isn't it just AMAZING? Yes, amazing... original... and every piece in this store is just like that... a little piece of art but also wearable...and all items are unique, and weird and dream-like and some eerie, and twisted and strange but all of them awesome and original one-of-a-kind material
We are talking about Bubble and Frown where some outstanding headpieces, hats, veils, and hair accessories, that look like right out of the weirdest Tim Burton's "dreamscapes" are offered in one of the strangest from humorous to nightmarish... Very fitting with the crafter name "Bubble and Frown"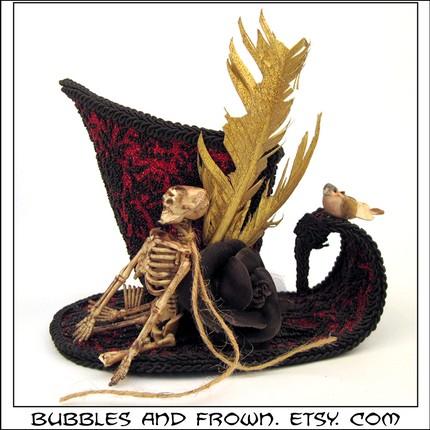 Below: Frosty Bridal model... because even for weddings... you don't really need to be so classical (and boring!!). Really you can make a difference! It's so ghostly too! I love it!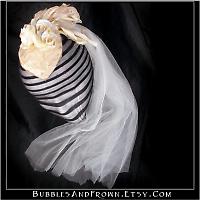 My favorite items are the veils... This would be such a match for my moth-dress (remember the beautiful pretty dress I was endorsed by El Costurero Real that published in fae magazine this autumn!!??), though it would give it a bit of widow, spider mood... (thought a bit of Krull movie) I'd love one of this in black but I love these color too because it's very natural-insect like and just match a dress I have so perfectly!!... Well I'll have to yearn for this quite a while... it's just impressive!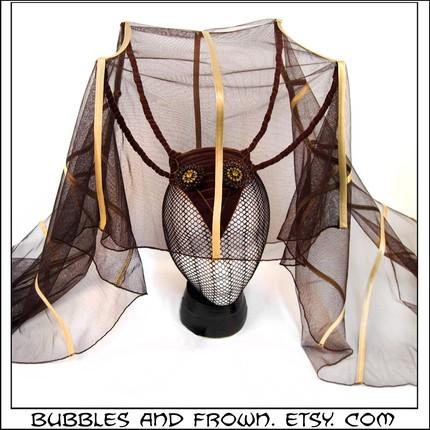 and this one for a moth dress too... infinitive possibilities...! And just perfect just in this color for it... There are other horned equeally lovely!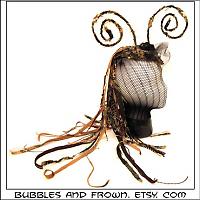 Also for my Steampunk Victorian friends I know some would love this little accessory cos it's just so cool... and so sexy for a pirate patch!!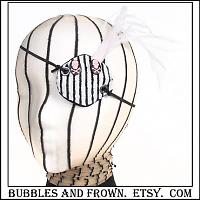 It is perfect for the burlesque gypsy pirate in all of us! Made of a spongy black and white striped fabric and embellished with soft pink feathers and a skull and cross bones cameo.
The only problem about visiting this store... is that you're going to want a lot of things from it...!!
Submitted on 2010/Sep/22